I'm having some fun with the new Garden Sketch App, created as a garden design tool. I've been inspired to create a visual wish list for a future landscape that I WILL achieve one day thanks to their #DesignThis contest.  They will be holding a contest each week and this week's challenge was to include a tiled patio space.
Most of you who know me understand that working outdoors with plants and critters is NOT my calling.  This is why you will see that I have made great use of their customized features to create a largely tiled backyard around a swimming pool! Of course, I couldn't help but add a zip line over the pool for fun! I also love large trees and since moving to California I've been dreaming of having a fruit tree.  Our neighbours here have lemon, orange and avocado trees. Though I do realize that having these trees creates further critter battles as you have to harvest your fruit before the squirrels and birds eat them.  The point is, even a gal like me has 'garden' dreams.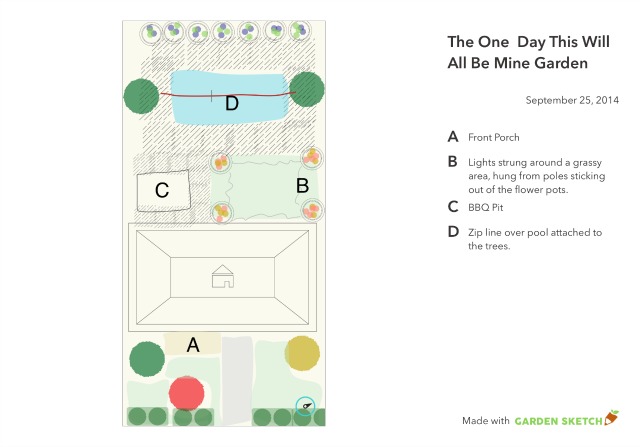 After all these years, I have yet to be able to do the entertaining at my house that I always envisioned when I thought of the ideal family life.  Our kids are in high school so we don't have much time left to make this happen before they move away for college.  Seeing this garden plan in full colour has made me decide to put a plan in action!