The Burnaby Blues & Roots Festival 2015 at scenic Deer Lake Park was a rousing success, albeit with just a hint of rain this year — a first for me; the rain that is. I'm a veteran by now, my sixth (!) year at the festival of its sixteen-year run. As with every year, the festival brought together a myriad of musical talent, with some names we know, and others that we were introduced to for the first time.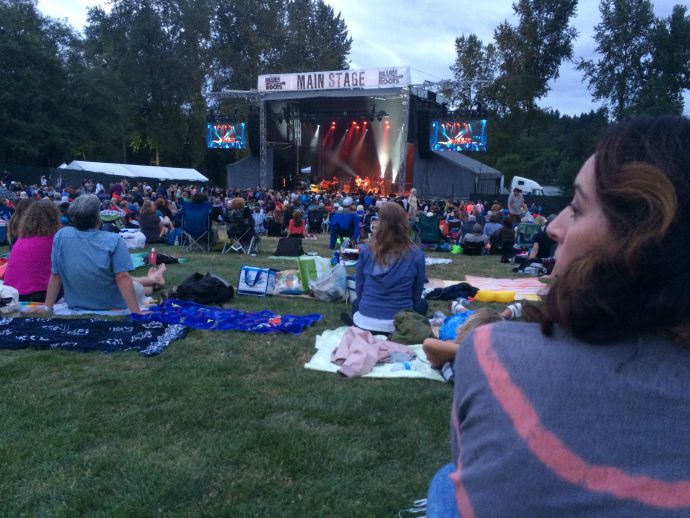 Diversity of many kinds
One thing I always end up walking away with is how fluid the musical divisions are between the acts I get to listen to, and to see. Sure, some of them stray toward certain areas of the spectrum more than others. But, all in all, the differences between folk music, country, the blues, zydeco, rock 'n' roll, and any other musical form that could conceivably be expected at a festival like this are all a part of a grand mosaic.
The audience tends to reflect this same diversity that adds up to a glorious whole. When you go to the festival in Burnaby, you see grandparents, parents, kids, couples, families, singles, and gaggles of people of every combination therein enjoying the sunshine (and the rain!), and the tuneage.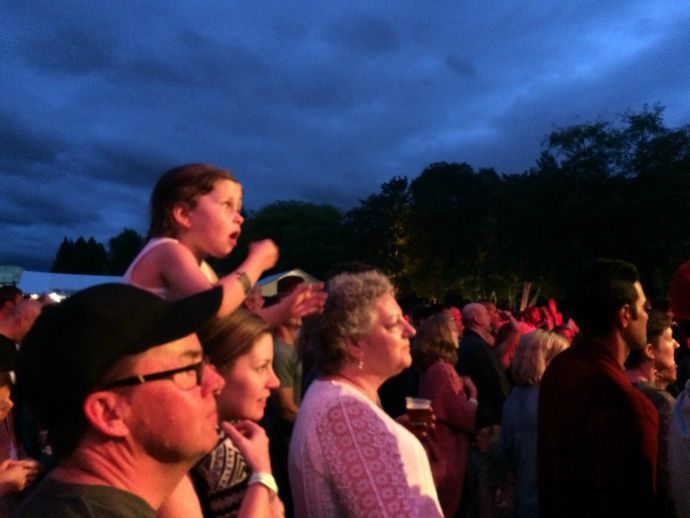 Choose your own adventure
Another aspect of the Burnaby Blues & Roots festival is that you get to choose your own adventure during the course of the day. Sometimes, you choose your stage and settle in for the acts you came to see. Other times, you wander to others, with the promise of hearing something new. You miss a few acts and wish you hadn't. You catch some acts and can't believe your luck, because you've just discovered your new favourite band. The festival is different for everyone.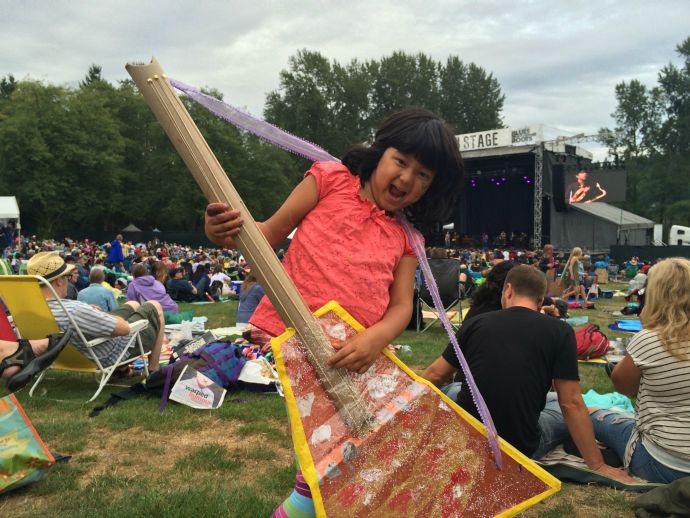 So, with all of that said, I'd like to share my top ten musical moments this year. Here they are in absolutely no particular order.
1. Colleen Rennison sings "Stage Fright"
Colleen's band No Sinner is one of the best rock n' roll and r&b bands going today anywhere. Luckily, they're based here in Vancouver. Rennison went it alone at the festival this year, singing this particular tune by one of my favourite bands — The Band, as it happens. When she hit the "he's gonna sing just like a bird …" line, I got chills. Seriously. And a tear. I've been a fan of her voice for years. But, I promised myself I wasn't going to cry.
Another Colleen Rennison favourite …
2. Harpdog Brown rocks Elmore James' "Shake Your Moneymaker"
I have a weakness for Elmore James' slide n' shout style of electric blues. And Harpdog, also hailing from here in Vancouver, delivered James' signature hit in all of its primordial glory. When you know the real thing happening, it's pretty sensational. And it proves that the blues has reach that includes the depths of the soul as well as to dancing feet, especially when at the hands of a master.
We enjoyed "Shake Your Moneymaker" so much that we didn't capture it, but you might enjoy some kick ass harmonica from Harpdog Brown …
3. Terra Lightfoot sings "Never Will"
Terra Lightfoot hails from Hamilton Ontario, and her appearance here was her first on the Left Coast. I've been a fan of hers for a while, particularly of this tune which is taken from her recent record Everytime My Mind Runs Wild. Seeing her delivering "Never Will" singing in her ballsy rock voice tempered as it is by a pre-war country-blues undercurrent, and wielding her battered Gibson SG added new dimension to a song I already love. I can't wait to hear more from her. And we all will.
4. Jesse Roper simply wails with his band
I had to sneak myself across the field while Terra was playing to catch Jesse Roper. I'd heard so many good things about this guy, who seems to embody that loose and wild Austin Texas style blues rock. Wow. I was not disappointed, and neither were the crowd who were on their feet the whole time. You'd be hard pressed to find a group of guys with a sound tighter and tougher than this. And while having such a good time, too. "Was that for real?" said a wide-eyed and blown away fan to me as the set ended. Yes. It was as real as it gets.
5. Eagle Rock Gospel Singers remind us that the devil doesn't have *all* the good tunes
The Spirit was well represented by Los Angeles' Eagle Rock Gospel Singers, who, under the influence of the Staple Singers, Sister Rosetta Tharp, Washington Phillips (favourites all!), reminded us that even if the blues is known for backdoor men, mojo hands, and deals done down at the crossroads, it has a sanctified side, too. And that this doesn't mean there is no fire to be found in the music, even if hell is a fair distance away.
6. Devin Cuddy Band sing "My Son's A Queer" (for Randy Newman)
Cuddy comes from a musical family of course, being son to father Jim of Blue Rodeo. But Cuddy the younger impressed with a voice and sound of his own with "My Son's A Queer" that is a tribute to the unreliable narrators found in the songs of the great Randy Newman. Cuddy told us that he actually pitched this song to Newman about a supportive dad who hasn't quite got the politically correct lingo down pat. No word at press time on Newman's response.
7. Lee Fields & The Expressions conduct a soul temperature check
With a career stretching back to the late sixties as a fiery soul provider, Lee Fields with his crack band of young soul men behind him had the crowd in the palm of his hand. With a temperature check to see if we all had as much soul as they did (a tall order), they had us waving our arms and testifyin'. "OH MY GOD!" he said. "They got soul." Well, if we do, it was at least partially Fields' doing.
8. Nathan & The Zydeco Cha-Chas bring it all back home
Nathan & The Zydeco Cha-Chas hail from Louisiana, home of the music after which the band is named. They brought it back home to Canadian soil a literal sense. Zydeco has some of its roots in PEI, New Brunswick, and Nova Scotia with Francophone refugees — Acadians, later to be known as "cajuns" — filtering down into Louisiana to join their French-speaking cousins after The Great Expulsion of the late 1750s. They brought  their accordions and fiddles with them. No wonder Nathan felt so at home, even if we are a fair ways away from long lost Acadia. We were pleased to have him, as you can see.
So pumped rehearsing before the show that the camera couldn't make it's way right side up …
9. Ruthie Foster's drummer Samantha plays the spoons!
Ruthie Foster has been on the scene for many years, creating an amalgam of roots influences that make her music vibrant and completely free of any one musical label. And her voice; such a powerful and passionate instrument. Yet, she was rivalled by the versatility of her drummer Samantha, who apart from being a fantastic stickswoman also rocked the spoons on "Mississippi John Hurt's "Richland Woman Blues" with almost supernatural abandon. What a delight!
10. The Sheepdogs sing "The Way It Is"
Headliners and Rolling Stone magazine cover boys The Sheepdogs proved to be the inheritors of a whole stream of roots rock pioneered by seventies bands like Lynyrd Skynyrd and the Allman Brothers, but with a decidedly Saskatchewan flavour. This is one of their big singles taken from their eponymous fourth record. It was a real treat to hear them playing it live, proving them to be a formidable live presence as well as great songwriters of radio-friendly rock music.
My blues & roots festival — find your own
And that was my Burnaby Blues & Roots festival for 2015. Some of the crowd had a similar one I'm sure, but not identical to mine. That's the thing about this festival. It's always personal. It's full of shared experiences and moments when you can look at the people you're with and nod with recognition that something memorable has just happened. But, ultimately you carry away musical treasures that belong to just you for as long as you live.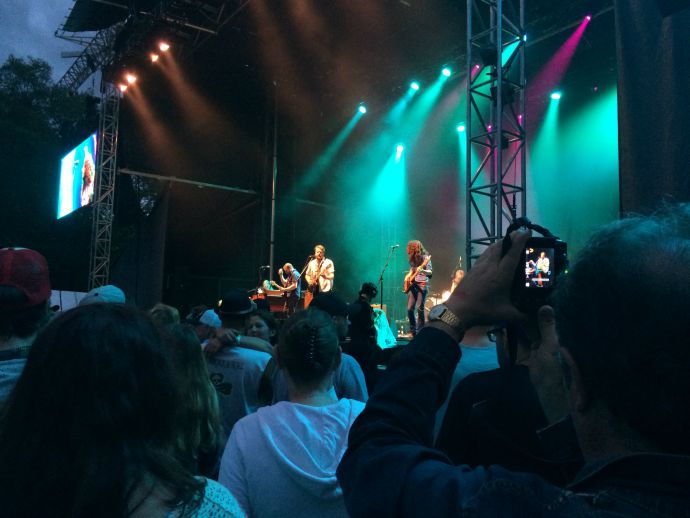 Thanks to my friends Erica, and of course our Emme Rogers, for bringing me with them in their luggage once again this year, and inviting me to post my thoughts for you good people here. May we experience many more just like this one.