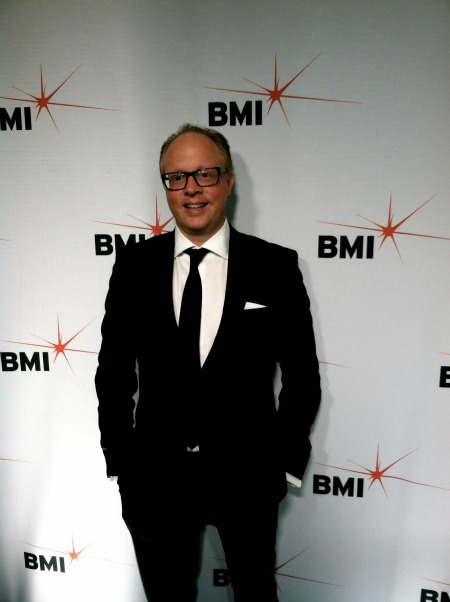 Shawn Pierce, Canadian TV soundtrack composer and musician on Polar Bear Town, has an impressive body of work. A graduate of the Berklee College of Music in Boston, Pierce took his studies in television and film score composition and translated it into  compelling music for (among other projects) acclaimed dramatic series The Bridge, to popular supernatural drama show Haven, to powerful documentary film about residential schools, We Were Children.
His most recent project is OLN's half-hour documentary series Polar Bear Town. The series is set in the arctic town of Churchill, Manitoba, a remote community that is also a very tightly knit one. It also happens to be located in a unique part of the world; in the migratory path of polar bears. The stories that unfold in the series concern themselves with the relationships between the people who live in Churchill, the bear-watching visitors who come there annually, and the relationship all those people have with a unique, and often very hazardous environment.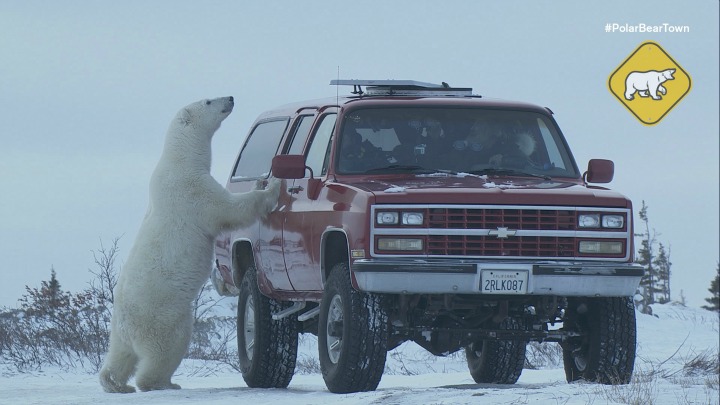 What is Shawn's approach to providing support for the compelling narratives in the show? From what resources does he draw to frame the lives of the people living in a place that exists only in the realm of the imagination for most?
We at Being Emme got a chance to talk to film and television score composer Shawn Pierce via email about these questions, and others. Here's what he had to say.
***
Being Emme: Shawn, you've worked on a number of television and film scoring projects by now. What led up to your work on this one?
Shawn Pierce:  I've been working with Merit Carr and her team at Merit Motion Pictures since 2007. We've done countless projects together and I was thrilled she asked me to get involved on Polar Bear Town.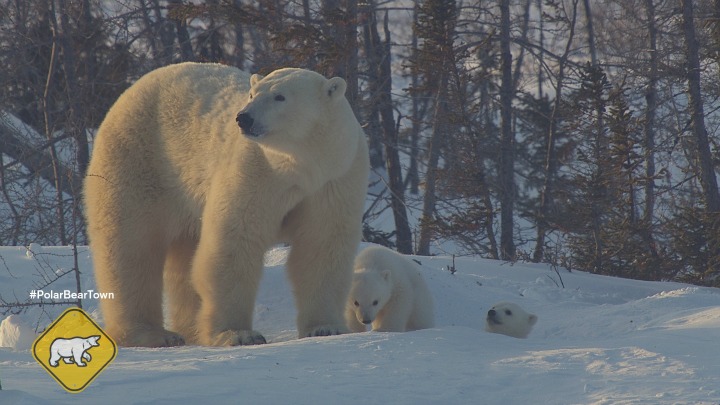 BE: In your line of work, what are some of the most important relationships you establish with other members of the production to get the results everyone is looking for?
SP: In my opinion the paramount relationship would be with the show running producer(s) and/or the producers tasked with taking creative initiative, responsibility and direction for the music. Sometimes there is a misconception that TV/Film composers just get hired to "write music" and it's accepted as our creative contribution with a few fixes here and there. I've never really had that scenario happen, thankfully! It's truly a collaborative process and I thrive off of the input and concept from producers.
I always have an idea, sure. And getting producers on board with that vision can sometimes be a challenge. But, when the score truly works is when everybody involved is happy and we are all moving forward together as a whole, creatively. The second part of the answer would be a relationship with the picture editors for whom I hold a lot of respect.
BE: What's your initial process when scoping out a new film and TV score project for the first time? Is it the same every time?
SP:  It's not really the same each time from a technical standpoint, meaning there are factors involved that dictate where things are at from a score POV.  These factors could be about how early I am involved, or whether we have a locked picture.  Any temporary score being used as a possible "sound" and direction is another important factor.
On the aesthetic side, the coming up with the music part is a lot the same. I get ideas and I run with them, with a lot of times running right into a brick wall (or a polar bear!).  Therefore, I sometimes have to stop immediately and try something else. I like to explore options to present. And I think that stems not only from insecurity (ha!), but wanting to make sure I put all effort into presenting ideas that are completely different a lot of times, so the team can hear it several ways.
BE: On a storytelling level, what are the key dramatic elements in Polar Bear Town that help you to inform your approach to creating its musical landscape?
SP: We try and make PBT as exciting as possible.  There is always this lurking danger that the bear could attack.  I try to make us feel that and at the same time pushing the show forward while trying to be there with the editing.
There's a lot of "characters" in this show. We're still trying to define these people musically, which is a progressive task. I'm still trying to capture the essence of each guide and his/her style. The music at this point is in the process of developing as the characters themselves develop throughout Season 1.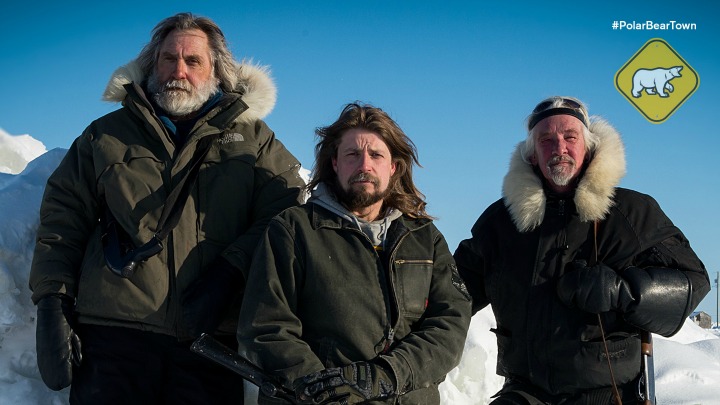 BE: What is the key narrative that you feel the show best communicates so far, with your music providing support ?
SP: "GET AWAY FROM THE BEAR!"  "STAY IN YOUR CAR!"  Everyone thinks polar bears are snuggly and cute. It only takes a half a second and you could be dead. They are wild animals even though they look 'cute and friendly'. I think the guides do a great job of educating us on the bears.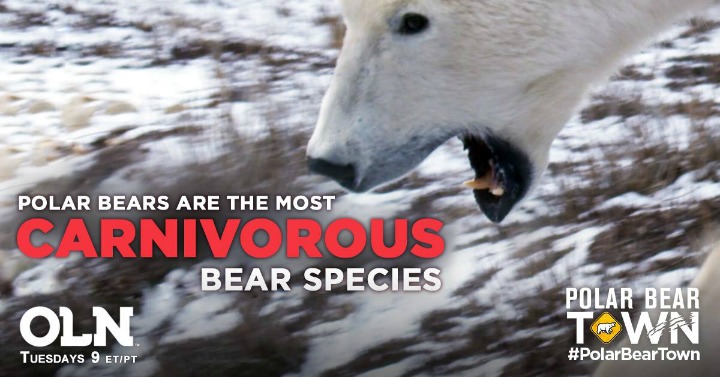 BE: How has emerging technology come into play to make your job easier, more challenging, and more fun?
SP:  We could do a whole interview just on that!  For me though it's being able to work on a project long distance and to be connected to the production through online technology, as if I was there. The music spotting of an episode is done online, and the music is delivered online.  It saves a lot of time.
Honestly, I do miss the personal aspect though, with everyone getting together in the same room. That's a part of the creative process that in many cases is disappearing. This is not only true to my job, but true in so many vocations. Whether it's a good thing or a bad thing can be debated. In my case, I miss the "in-person" interaction. But on the flip side, I'm ultimately able to have more time to work on the show and meet to a weekly deadline.
BE: Many musicians and composers talk about trying to get away from their own internal default settings when it comes to writing, and arranging new music. What do you do to keep things fresh and unique for each project you work on?
SP: I try to watch as much TV as I possibly can to get inspiration. Every genre. I get inspired by story, character, and how the show is put together and comes across as a whole, whether it's reality TV (as in this particular case) or the hottest, newest boutique cable drama. When I watch a show I'm not thinking about the score at all. I usually don't notice it and that's how I know it's working. I'll go back and watch it again to see why it's so moving and powerful.
BE: Is there a sense of having to let go of your ego a bit when it comes to scoring a series or film, and letting the story lead?
SP: I've always held to the principle that what I do is not about the music. It's the concept that so many artists struggle with when they are tasked with having to write underscore. When you're a musician/artist and it's all about your music and how you present it to the listening public. It's a different mindset completely with absolutely its own set of challenges.  I'm very comfortable with it ultimately not being about my music! That's why I love being a TV composer.
BE: What would you say is the biggest challenge when composing a score?
SP: I hear composers say all the time that "the writing of the music is the easy part!"  Honestly, I believe it. Besides getting the job on the show as a composer in the first place, the hardest part is finding the sound of the score and getting on the same page with all involved; finding a target to aim at so to speak. As a music professional, you should be able to create within the defined and approved creative boundaries of the show.  i.e.:  It's folk music with hip hop beats… do it!  (Polar Bear Town)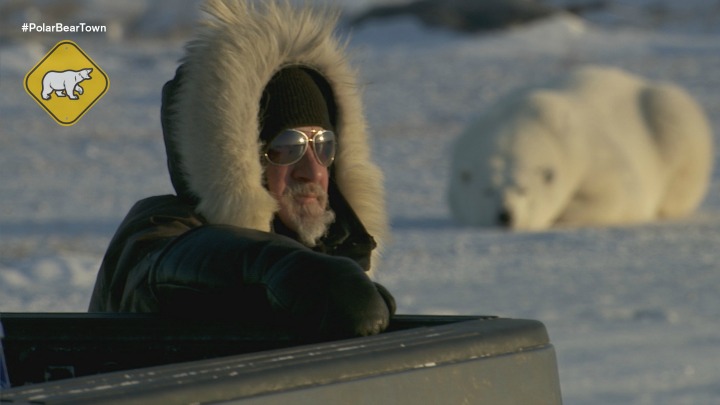 BE: Do you find that you're able to self-edit along the way when it comes to finding the sound of the score?
SP: Nine times out of ten, I'm pulling elements out of the score. If it's trying too hard, if it's telegraphing or interfering, then it's just plain too much. Catching that in writing before producers hear it is always a good thing.
Being your own musical chaperone is a handy skill.  You may have spent a whole day writing one minute of music and at the end of the day (or the next morning) you need to be able to give it a solid objective test. Does this work? Am I moved by it? Is it working, and making the show awesome? If it's not, then it's time to start again.
BE: What are some of the most important creative decisions you have to make in order to get it right?
SP: In my world, I'm usually tasked with dramatic TV underscore where it's a fine line between too much and not enough. Do you play the music obviously matched to the action on screen? Do you play to the characters' internal thoughts? Do you employ counter intuition?
Another principle or rule I follow is one I used to follow when I worked on albums as a producer and/or mixer; "it's what you don't do."  I try to follow that in scoring. Usually, less is more. That's why a score sometimes doesn't necessarily stand up well on its own as 'music'. It's designed to work in tandem with something else, dialog primarily.
BE: Ultimately for you, what is the unique role of music in the storytelling process? What is it about music that helps us better engage with what's happening in a story?
SP: Tough one. It's different in all genres and approaches. Sometimes the score has to jump out and say "notice me." You see this in feature films where it's common that there is more film space in which to be musically 'heard', as in sweeping themes that take us over grand shots and landscape.
Maybe it's an animated show where you're tasked with hitting and accenting every nuance. Perhaps it's a musical where it's about the songs and performance. Seriously, it's different in all cases. The simple answer is the music should work!
***
Thanks, Shawn!
Tune in to hear Shawn's music, and to catch up to the people of Churchill, Manitoba and watch Polar Bear Town on OLN at 9 pm ET / PT.
To find out more about the show, you can connect with the Polar Bear Town community on Facebook, enjoy some of the beautiful images of the North on Instagram, join in the discussion on Twitter or enjoy extra footage from the Series on YouTube.  The Series would also love to hear your bear stories by sharing them with #BearTales and #LivingWithBears on Twitter and Instagram.