It's that time of year again, when you are counting down the sleeps and counting the colourful bluesies dancing through your head. Yes, indeed my friends, it is starting to feel a little like … the 2016 Burnaby Blues and Roots Festival!!!!  Or as I like to refer to it my annual summer birthday bash!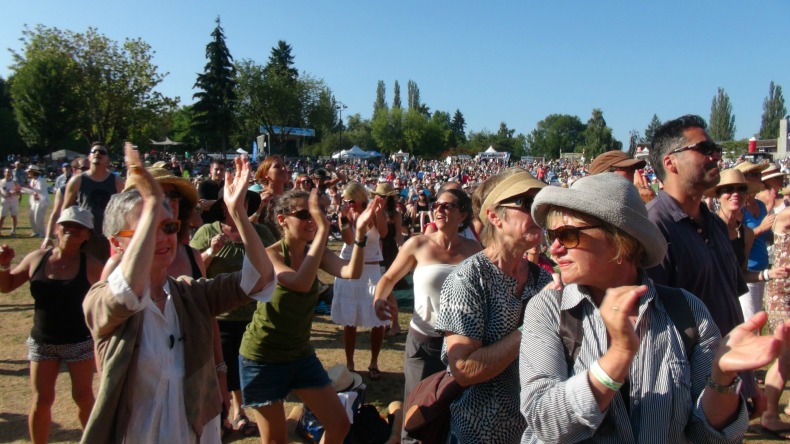 Now Burnaby and my bud Denis have done my birthday bash justice once again this summer with their selection of the lineup for the Burnaby Blues and Festival 2016!  They always do have impeccable taste in selecting the diverse mix of talent in the form of up and coming musicians and music legends.  So what do I have in store for entertainment for everyone joining me Saturday August 6th, 2016 at this summer's birthday bash at Burnaby's Deer Lake Park? Here you have it, from start to finish:
1:05 – 1:45 pm
mmm mmm mmm … Gotta to get this man to teach me how he wiggles his hips! "We're going to have a good time tonight, alright!" 😉
1:45 – 2:30 pm
Purring at the thought of these old school blues from blues legend Wes Mackey.
Rich Hope on the Westwood Stage
Returning once again to the Burnaby Blues and Roots Festival, Rich Hope is always the kind of trouble this music lover is happy to swoon away a hot summer afternoon to.
2:30 – 3:15 pm
Hard not to fall in love with the soulful voice of this Canadian singer / songwriter who has made it in her own right in Nashville, Tennessee.
3:15 – 4:00 pm
Hard not to imagine yourself in the wild west with the hauntingly gruff tones of Ben Rogers.
Shred Kelly represents the kind of quirky small town Canadian folk rock band / sound that I always fall in love with.  New to me, I am definitely looking forward to seeing them live on stage at this year's Burnaby Blues and Roots Festival.
4:00 – 4:45 pm
Getting down to a little Southern Gospel.
4:45 – 5:30 pm
Certainly won't be wasting my time in letting Dawn Pemberton funk me up with a little funk and a little soul at this year's Burnaby Blues and Roots Festival!
Hot damn!  I'll say it if no one else will – damn sexy listening to the blues en francais!
Oh, and if you are curious, Cécile sung this within the haunted walls of the old Carlton jail! Read on here for some of the ghost stories within: Ottawa Ghost Stories and a Chilling Late Night Walk Through the Old Carleton Jail
5:30 – 6:20 pm
Cyril Neville and the Royal Southern Brotherhood on the Main Stage
Looks like the Southern Gods of Rock 'n' Roll have deemed us worthy, with the legendary bloodlines of the Allman and Neville Brothers rolling into town to cast their own bit of musical magic on all who listen.
6:45 – 8:00 pm
Pretty stoked to have a Vancouver mama (and gal of my youthful years) to unwind to at the end of a great day on the Main Stage.
8:30 – 10:00 pm
mmm mmm mmm … Colin James – the perfect way to end a hot summer's day and hot, HOT SUMMER NIGHT!!! "Keep on loving me baby!"
If you order your Burnaby Blues and Roots Festival tickets tonight, you can still save a bit off on what tickets cost at the gate.
I hope to see all of you at what I humbly call THE BIRTHDAY BASH OF THE SUMMER!!!  But then it is my birthday bash, so what else would you expect.
Kisses,
Emme  xoxo