My family and I just lived it up at a show taping of America's Got Talent. This was so perfect for those who want to be entertained but just can't sit still in their seats, and prefer anything but the stuffy courtesy clap that is often a part of most theatrical experiences. You see…the audience is considered the 5th judge on this show!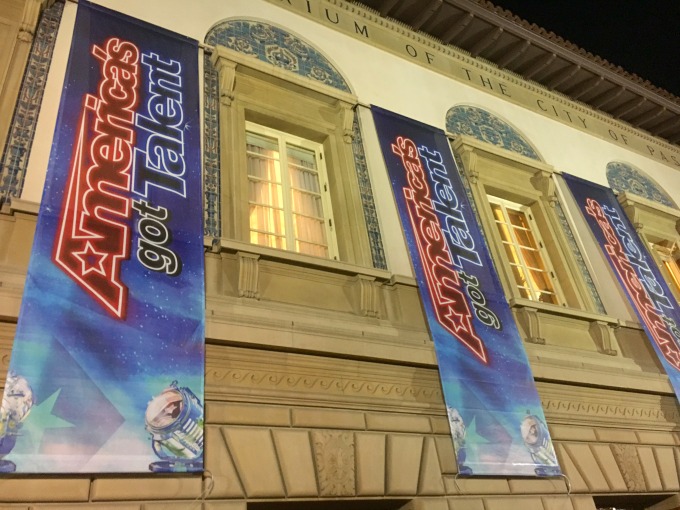 If you aren't familiar with this show, there are 4 judges: Howie Mandel, Heidi Klumb, Mel B, and Simon Cowell. Very brave contestants come out on stage to showcase their talent (or lack there of – sorry) in hopes of gaining approval to continue on to the next round. This is not a singing or dancing competition, this is an EVERYTHING competition!
We saw an athletic pole dancer, contortionists, a puppeteer, a young singer, a dancing duo, shrinking hooligans, a leprechaun and more! In order to not spoil anything before the episode we attended airs, we were not allowed to take photos of any of the actual contestants on stage, nor can I let you know who got buzzed off the stage! I can tell you that as an audience we were encouraged to share our opinions by cheering and dancing, jumping up and down making the 'X' buzzer sign with our arms, and booing. Sometimes the judges would look to us to help us decide and there was one occasion where an act looked like they were surely doomed, but our audience loved them so much that all our cheering swayed the judges on the fence to let them through!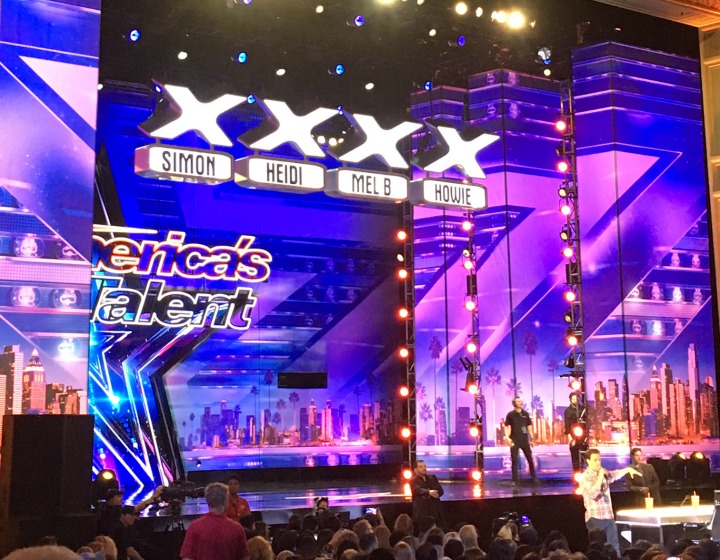 Our minds were definitely blown by some of the talent we saw and I loved that we had no idea what we were going to get when we walked through the door. A big bonus was getting to see Tyra Banks, their new host! I must also add that the warm up guy found some pretty entertaining people in the audience before the show even started! If you are going to be in the Los Angeles area any time soon, America's Got Talent still has a few more audition shows to attend. They will be back later in the year for their live show segments. Tickets will also be available to be a part of those when the time comes. To be in the audience for any other show tapings visit On Camera Audiences to see what will be filming while you are in town.
Tickets to every show are free, but you do need to set aside an entire day for the experience because there is a lot of waiting in line. Show tapings themselves can often take hours. We were in the theater for more than 3 hours for America's Got Talent. During live shows, however, the tapings are quite short. Unless your tickets say Priority Tickets you are not guaranteed entrance. It doesn't tell you this anywhere, so let me be the one to spare you heartache… people line up hours ahead of the time it tells you to report to the event on your ticket. For Priority Tickets, this means getting the best seats as they are given out, and for regular tickets this means having the best chance of getting in.
Lastly, remember to record the show when it airs to see if you can spot yourself on TV!