I can't help but to smile fondly upon my magical Vancouver summer evening spent with Rastin, Erica, and Mary Poppins at Theatre Under the Stars (TUTS) in Stanley Park's Malkin Bowl.  This was exactly the spoonful of sugar that I needed.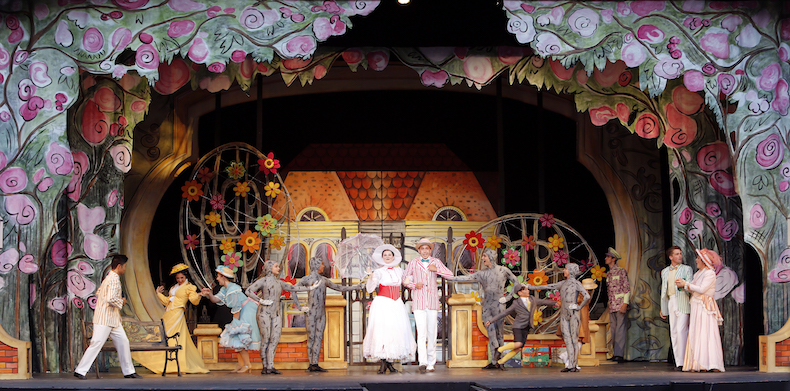 You see, I've been spending my summer convalescing from a concussion, and as the doctor's orders were to lay low and stay off my computer initially, I needed a vice to keep me from reaching out for the laptop and the smartphone.  Thinking back on when I was ill as a child, I remembered my Mom getting me books on tape from the library, most specifically The Secret Garden.  So over the first few weeks, I spent my summer listening to my favourite children's stories through audiobooks, starting with The Secret Garden.  My thanks to the library for these.  And just as Mary Poppins finds a spoonful of sugar helps the  medicine go down, so do I.  In every struggle that I am faced, I need to find and focus on the silver lining.  In this case it was the reminder of carefree summer days spent reading and relishing in the fantasy worlds within children's stories. (It also highlighted my love of listening to audiobooks, so over the coming months, stay tuned to audio versions of our tales here and those Roamancing, but that is a story for another day.) One favourite story I had not got to though was that of Mary Poppins, so I was thrilled to use a visit to Theatre Under the Stars as a transition off the couch and easing back into the real world, or at least as real as my world ever gets, as I always seem to be wrapped up in one story or another.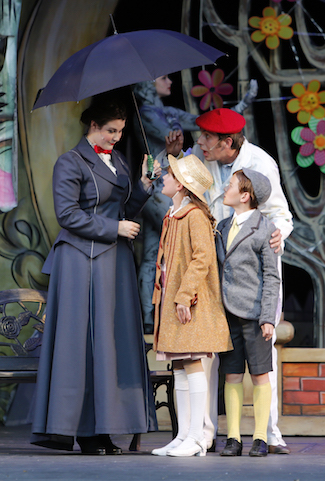 Well, I have got to say, I could not ask for a more delightful re-entry into the world outside of my humble abode!  I often forget how much I dearly love the story of Mary Poppins and really there is no better way to enjoy it than when performed on the stage.  Mixed into this delight was introducing it to Rastin for the first time. In accepting the invitation he said, "I don't normally like musicals, but who could say 'no' to a night out in Stanley Park."  Well, this man who 'did not normally like musicals' was besotted with the production of Mary Poppins that very quickly held him spellbound.  One of my favourite parts of the musical version of Mary Poppins has always been the set and prop design that aid in the Mary Poppins magic.  I love how every time I see different versions of Mary Poppins they find slightly different solutions to creating this magic in Mary Poppins' bottomless bag, to the kitchen cake scene, to Mary Poppins being carried away by her umbrella … etc. Theatre Under the Stars' rendition of Mary Poppins did not disappoint as once again I found myself relishing in the stage and prop design.  In particular I loved seeing the brooms effortlessly leap into Mary Poppins' (played by Ranae Miller) outstretched hands.  Best of all though, was listening to the reactions of delight from Rastin, who had never before witnessed the magic of Mary Poppins come to life in a musical.  The wonder of the magic created by stage and prop design is a joy to see in children's eyes, but that much more magical when you hear the gasps of delight coming from a grown man's lips, transforming him back into a child long forgotten – a theme within the story itself, but one that when the story is brought to life in the way Theatre Under the Stars did, it has the ability to physically exhibit within the adults in the audience.  That my friends is true magic!  Bravo to Set Designer Brian Ball, Properties Manager Cameron Fraser, and Stage Manager Susan Miyagishima and her Assistant Stage Managers Vanessa Maia Consuegra, Yumna Iftikhar, Cayleigh Olson, and Samantha Paras, who helped create this magic.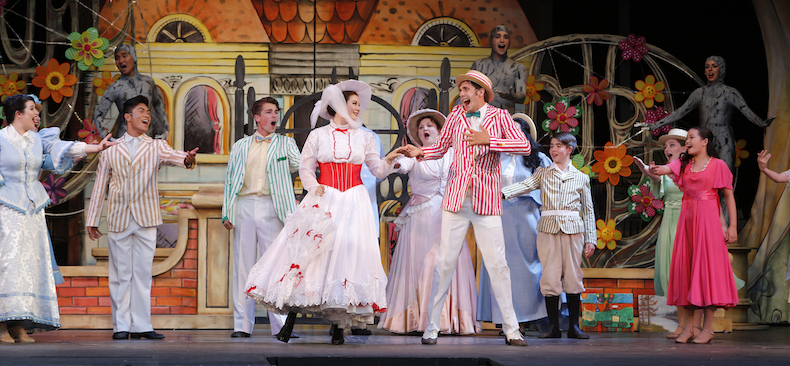 Another favourite part of Mary Poppins for me, and the reason why I think it is a story best enjoyed on the stage, is the dancing!  Theatre Under the Stars rendition of Mary Poppins certainly did not disappoint in this department either. My favourite dance in Mary Poppins has always been that of the chimney sweeps dance to 'Step in Time', and I must say I loved Theatre Under the Stars version of it.  It once again captured my heart, and was all I could do to stay seated and not get up to try and step in time with them. Secondarily, the Supercalifragilisticexpialidocious dance also captured my heart, which was a delightful surprise, as while I always love the song, the accompanying dance can often be a hit or a miss for me.  Best of all though was Rastin's reaction to the dance.  As a swing dancer, he can be a bit snobby about dancing, but boy oh boy, did he love the dancing within Theatre Under the Stars rendition of Mary Poppins.  His face lit right up at it and his eyes twinkled with delight.  It really was rather thrilling to watch!  Thank you to Choreographer Nicol Spinola, Assistant Choreographers Grace Newson and Melissa Sciaretta, Dance Captain Leah Newson, and to the ensemble for all the smiles you created with the dances. And as a side note to the ensemble and those helping backstage (including Costume Designer Chris Sinosich and Assistant Costume Designer Donnie Tejani), I am in awe of how quickly you must have made some of those costume changes.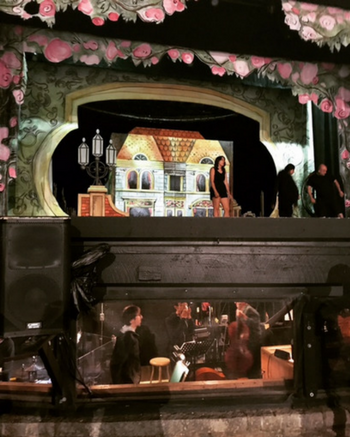 As the beautiful music from the singers in the ensemble and the orchestra enveloped us in the summer night filled with magic, I had to stifle laughter of delight as the awed realization hit Rastin's face that these beautiful sounds were coming from a live orchestra. Thanks to this, we wandered down to the stage after the show to check out the orchestra pit, which I am glad we did, as it really was something special. Thank you for the enchanting night of sound, Wendy Bross Stuart (Music Director / Conductor), the orchestra, the ensemble, and Brad Danyluk (Sound Designer).
I cannot say enough wonderful things about the cast.  I enjoyed all of your performances, but I must say, Victor Hunter you stole the show for me as Bert, and Rastin was so enamoured with your performance that he spent his intermission looking you up on his smartphone.  Russell Roberts – your George Banks made me think fondly on my grandfather, who also performed, as to my great pleasure I could see a bit of him in your performance. Steve Dotto – what can I say, I don't think there has ever been a better Admiral, than you.  I smiled each time you stepped on stage … well, truth be told, I smiled through the whole performance, so what I should say is that I smiled a little brighter each time you stepped on stage.  And one of the particularly talented young dancers, Emma, appears to have been sired by you.  Seems she has some of her dad's talent for performing, although I suspect she has you beat in the dancing department. Joseph Spitake as Robertson Ay – thank you for the many chortles you gave me. Ranae Miller – your performance as Mary Poppins was both magical and delightful. Jamie Piercy – you make a truly chilling Miss Andrew. I certainly will be standing up straight and minding my ps and qs in your presence. Well done to the entire cast and ensemble!  You, the orchestra, and the behind the scenes creatives lead by Director Shel Piercy with the assistance of Assistant Director Amanda Tejani, were all very deserving of the standing ovation you received.  A standing ovation that I smiled to see was started by Rastin, the gentleman that before attending thought that he didn't like musicals.  You certainly worked your magic in changing that for him.
Thanks to the Theatre Under the Stars season having been extended, there is still one more chance to catch Mary Poppins in Stanley Park's Malkin Bowl this Saturday August 26th, 2017, before the winds change. You can find tickets, by clicking here: https://www.tuts.ca/tickets
Kisses,
Emme   xoxo