I won't lie, one of the things I LOVE about travel is tasting the local flavours – sampling the culinary treats and sipping the favourite beverages of the area.
On my last visit to Switzerland, quite possibly my favourite dish of the trip (which is quite the testament, as I indulged in many deliciously scrumptious nibbles), was Soupe de Chalet (also known as Chalet Soup or Cottage Soup). Not only do I still dream about it's ooey gooey goodness, but at the time, it was exactly the kind of comfort food that I needed on a night in which I was utterly exhausted from all of my wonderful Swiss adventures.
Soupe de Chalet was recommended to me by a local with whom I was dining with at Creux du Feu. I have to admit that it was a pretty tough decision, as Creux du Feu is an authentic Swiss alpine chalet, meaning that Macaroni du Chalet (also known as Herdsman's Macaroni or Älplermagronen – the origins of Macaroni and Cheese) and Fondue were on the menu. In the end I chose the local Fribourg Region delicacy that I had yet to taste, and my tastebuds were rewarded, as they entered a state of utter indulgence!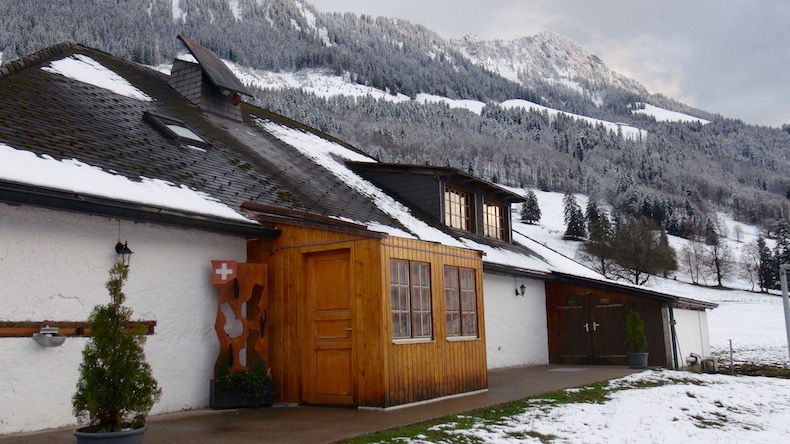 Soupe de Chalet was originally prepared in chalets in the days when the shepherds had no possibility of obtaining fresh vegetables during the high pasture grazing season, so was mainly composed of wild mountain herbs, milk, potatoes, macaroni, cream and Gruyère cheese.
Today that tradition continues with skiers, hikers, and other alpine adventurers. My dinner companion told me though, that unlike the original Soupe de Chalet, made for the herdsmen, today's Soupe de Chalet typically is comprised of the leftovers of the chalet revelries.
With an upcoming trip to Switzerland on the brain, I happened upon some Gruyère cheese in my meanders through the cheeses at the shopping centre, so I decided to try my hand at making own Soupe de Chalet.
As a starting point, I found this recipe for Soupe de Chalet on Swiss Tourism's website, and in sticking to the Swiss tradition of using what was on hand in the 'chalet', I modified the recipe to echo what I had on hand.
Soupe de Chalet à la Maison Rogers
Ingredients
1 tablespoon butter
1 leek
1 onion
1 beet, diced (a substitute for kohlrabi)
1 carrot, diced
1 cup of peas
2 cups of vegetable stock
1/2 cup of macaroni
1 tin of baked beans – rinsed and drained (a substitute for butter beans, as it was what was in the house)
1 cup of milk (a substitute for cream – I find cream to be too rich for me)
1/2 cup of grated Gruyère
1 pinch nutmeg
a little pepper
Directions
Sauté the leek and onion in a pot with melted butter, until soft.
Add in beets, carrots, and peas. Continue cooking.
Add vegetable stock. Bring to the boil, reduce heat,
cover and simmer for approximately 10 minutes.
Add macaroni and 2 tablespoons of milk. Bring to the boil, reduce heat, and simmer for approximately 10 minutes.
Add beans, remaining milk, and Gruyère. Warm through over a low heat.
Season with nutmeg and pepper, and serve.
Now, while I very much enjoyed this, this recipe on La Gruyère Tourisme's website, looks closer to what I had at Creux du Feu, and the recipe that I will be sampling next. The reference to cornets in it, would be macaroni noodles.
Do you have a recipe for Soupe de Chalet? Or do you have a favourite Swiss indulgence that you think I should sample on my upcoming trip to Switzerland? Tell me about it in the comments below.
PS. In Full Disclosure: As always, the opinions and thoughts shared here are our own and honest ones. We are bought out by no one. In the spirit of disclosure, it should be noted that on the trip that we first experienced Soupe de Chalet, some of our travel expenses were covered by Swiss Tourism, as a guest to the country.