Hi,
I'm Emme Rogers and this is the story of the shenanigans and debauchery that my friends and I get up to here in Van City – the good, the bad, the hysterically funny and embarrassing moments in our life's – trust me there are a lot of them. The bizarre has a habit of following me.  My friends describe my life as a bit of a soap opera and for years they have been telling me I should write my stories down, so I am finally doing that with this blog diary.  Because I personally don't find my life to be all that entertaining, I have invited a couple of my girlfriends to join me here.  You'll meet them soon.
More importantly gals – we are planning on turning this blog into a bit of a guide for us gals on all those things that we are a bit too embarrassed to ask or you think just happens to you. Guys pay attention as you may learn a thing or two too that will help to make you that "enlightened new age guy" or at the very least help you to get the girl. Due to my infinite nerdiness and lack of girl skills (I was a tomboy growing up), I just assume that it was just me that wasn't aware of many female secrets – like how to orgasm during intercourse – but as a result of regularly losing all pride and dignity due to lack of coordination and often being the brunt of the jokes – I am not afraid to ask my friends about the horrifyingly embarrassing.  To my shock, I have discovered a lot of other gals are as in the dark as I am and are dying to know those hidden female secrets.  Stay tuned as we are hoping to bring you these secrets via some video blogs.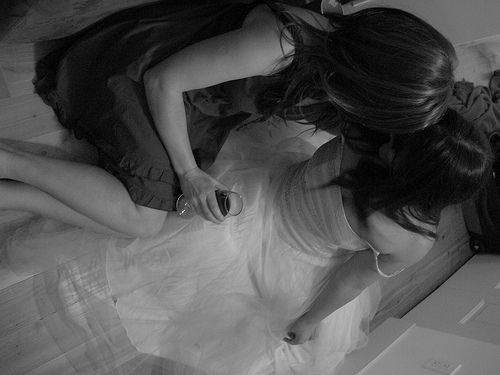 Now before we begin, I must start with a legal declaration.  As they say in the movies – any characters that bare likeness to you is a mere coincidence.  Should you see such a likeness it is possible that you have fallen and hit your head and are now suffering from a concussion. If that's the case, you'd be wise to seek medical attention. Alternatively you are suffering from delusions of grandeur – get over yourself – you really aren't all that exciting that we actually want to spend our time gossiping about you and what you did last night and with whom – unless it was with us, of course.
Love and light,
Emme