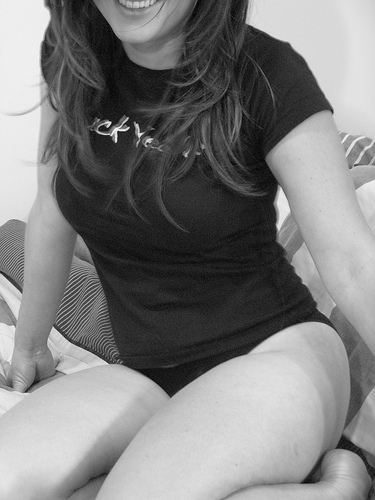 Funny how life and our stories have a way of coming full circle. I was reminded of that a couple of weekends ago, when an invitation brought me back to where this story began 8 years – learning to love the skin you're in and empowering both myself and those around me to feel like the sexy devils they are.
You see, before I began my tale, I tended to hide my body under baggy clothes and most definitely felt insecure about a potential suitor seeing me naked.  Was I overweight?  Honestly? No, but I did have a bit of a belly I was insecure about, and I'd grown up with a thin sister who thought she was fat, and made herself sick trying to get thinner and thinner.  The impact of this on me was that A) I'll never diet, and B) That I was insecure about my body and hid it away under baggy clothes.
What changed that?  Aside from supportive friends that attempted to get me into more form fitting clothes, I took an aerobic pole dancing class that had the side effect of beginning to teach me to love the skin I'm in and to begin to talk about my journey to embracing sexy – a journey I began to discuss publicly here.  At first, I actually worried that this would make me more insecure, but was pleasantly surprised to be embraced by a community of women and men that helped me change the way I saw myself. After my 2010 New Year's Resolution where I discussed trying to lose my love handles, I actually began to see myself the way the lovely community that I connected with through here saw me – as beautiful – curves and all.  Now, when I look at myself in the mirror, I smile at what I see, and as history would demonstrate, I will now mischievously flaunt my curves in a way that I'd never have done when we are apparently suppose to as women – in our wild university years.  Truth be told, I've been much wilder since.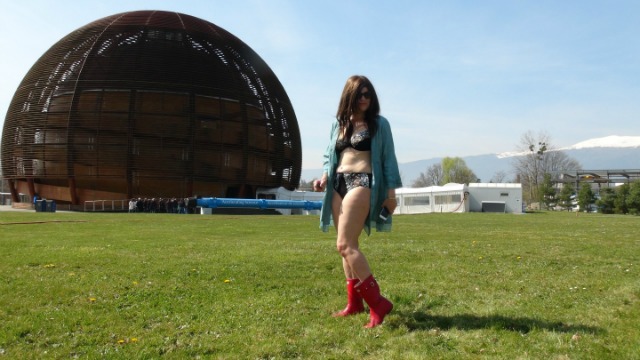 The exception perhaps in university would have been my affinity for stripping it all off to hop into random watering holes.  Being a tomboy in those days, that would inevitably have been random skinny dipping with my best male buds on road trips … memories that always make me smile, especially when I think of how naive I was to think that my uni bud, who I will affectionately refer to as 'The Photographer', wouldn't take pictures of me naked under the hot summer sun at Cameron Lake. I half expect to walk into a gallery one day to see a life sized portrait of me standing stark naked with my exposed back side to camera, only wearing my floppy Paddington Bear hat. I did after all shriek at the discovery one afternoon that 'The Photographer' was displaying these, at the time unknown photos to me, to his Dad on the kitchen counter. Those were the days.  And then of course, there was the staffer hike, where we all ended up skinny dipping in the middle of the day, in a park we all worked in.  It's moments like those that make me miss Island living.
I digress though.  How did I come full circle?  With a phone call, from whom I shall call the Sensual Bookworm, innocently asking if I'd care to skinny dip at the Dundas Community Pool with her? In reminiscence of the old days, "Fuck Yeah!" Baring it all in the waters of a public pool would be a personal first for me.  I didn't even ask if this would be a co-ed or legal swim.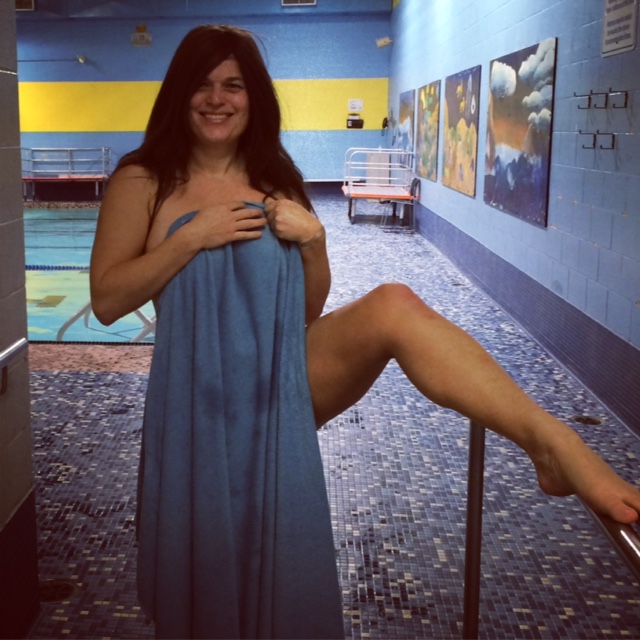 Those questions were answered by the cover of the Hamilton Spectator the next day.  The public skinny dip was women only, and was to raise awareness to Love the Skin You're In and to raise money for Danielle's Place Eating Disorder Support and Resource Centre.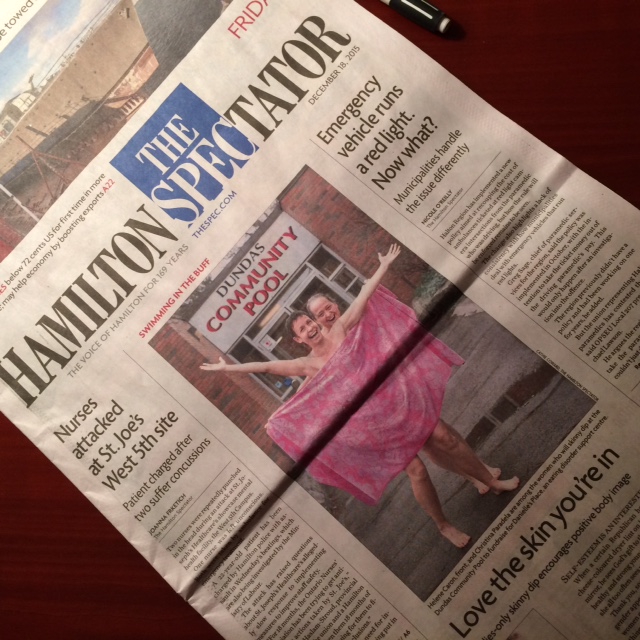 As for the day of?  It was a great success!  Women of all ages, shapes and sizes came out to frolic in the water in their birthday suits!  It really was a bit of awesome to see and be a part of.  By shedding our fears and baring it all, we reverted back to our childhood selves having fun playing in the water. Women played volleyball, swam lengths, did their water calisthenics, hung out and chatted, experimented with mermaid tails, and shot down the slide.  The slide was, in my mind, the most awesome part.  There is something absolutely wondrous about seeing a stark naked 60+ year old woman gleefully shoot down the slide, squealing like a young kid.  And wow, did you ever shoot down that slide.  It seems in the absence of the friction of the fabric of a swimsuit, those slides are wild rides!  Now, if only they'd have had a rope swing, the wild Amazon in me would have been fully unleashed.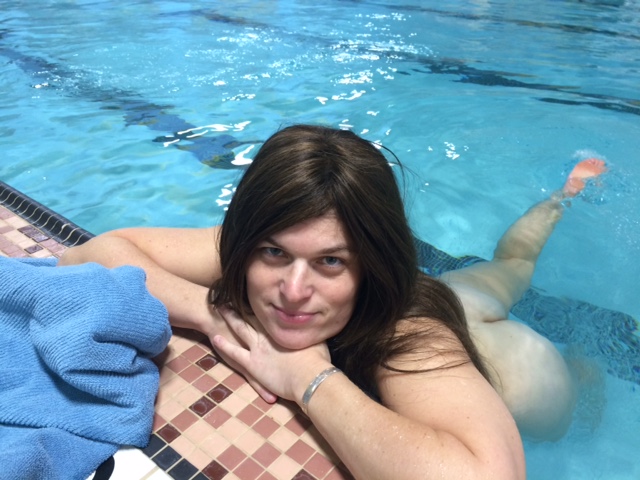 If you missed December's swim and are in Southern Ontario, not to worry, there will be another skinny dip at the Dundas Community Pool in early February.  If I am still in the area, I will most definitely see you there!