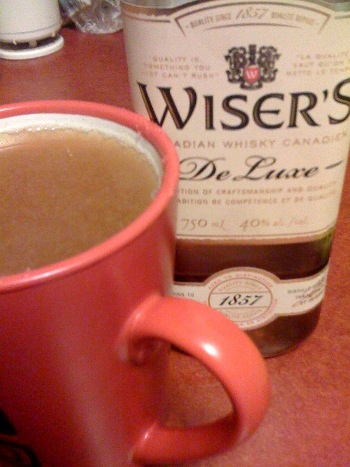 Been feeling a little fragile this past week and whether it's a cold, matters of the heart or that time of the month, I decided that it needed to be nipped in the butt this evening.  And so what better way to nip the cold weather blues away then with a Hot Apple Toddy with a sunshine twist. So I invented my very own Hot Apple Mandarin Toddy and if I do say so myself it pretty yummy. Here's the recipe:
Ingredients
1 1/2 cups of apple cider
3 cloves
a stick or a dash of cinnamon
mandarin peel
one mandarin segmented and cut in halves
1 tsp of honey
2 oz of whisky
Preparation
Heat cider, cloves, cinnamon, mandarin peel, mandarin segments and bring to a rolling simmer.
Put honey in a mug.
Add whisky to a mug.
Pour cider into the mug and stir with a spoon.
Optional to add the mandarin segments and cinnamon stick to the mug.
Enjoy!
Oh and please let me know if you come up with any other variations.