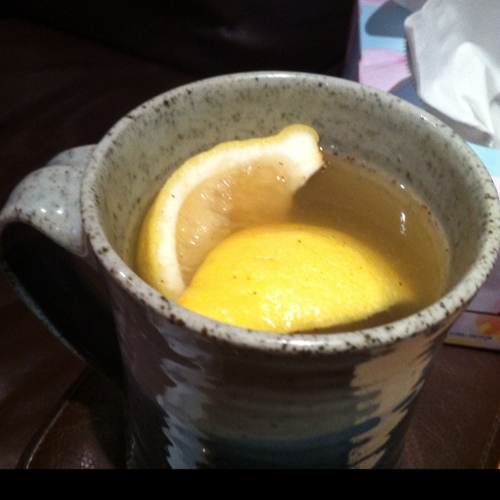 Been slammed this past week with what I'm calling the Ontario Plague (aka the flu that's hit the Province hard). Yes, quite a lovely way to ring in the New Year.  It did mean I took a few days for a bit of R&R, which is never a bad thing.  And I did spend the time perfecting my version of a favourite hot drink of mine when feeling under the weather ~ one hard core virus kick butt drink for me and a toned down version for my Mom with bronchitis, who decided my drink was a far preferred nightcap to cough syrup. Here's the recipe:
Ingredients
The Basic:
1/2 a lemon
1/4 – 1/2 of a cinnamon stick
1/4 tsp of ginger (chopped or minced) or a dash of powdered ginger
1 tsp of honey
1 oz of whiskey or brandy
Kick Butt Add-Ons:
1/4 tsp of minced garlic
a dash of cayenne powder
Preparation
Boil water.
Cut lemon into quarters.
Squeeze lemon juice from two lemon quarters into a large mug, and then leave the squeezed lemon quarters in the mug.
Add the cinnamon stick, ginger, honey and whiskey (and garlic and cayenne, for the kick butt version) to the mug.
Pour boiling water into the mug.
Stir until the honey is fully melted and immersed throughout.
Enjoy!
Oh and please let me know if you come up with any other variations.
No longer contagious kisses,
Emme  xoxo
PS. And for a prolonged flu, here's an evening alternative ~ Hot Apple Mandarin Toddy ~ so your palette doesn't get bored.