I always love Launch Party for connecting with old friends and checking out new start-ups and last night's was no different.  Just very upset that Santa was hiding on me.  I wanted to see if he still wanted to buy me a house.  Something or other about Raul and Erica sitting on his lap at the same time sent the poor man into hiding, however. And really can you blame him?  There's only so much goodness that one man can give and those two are so bloody demanding (perhaps this is one of the reasons I begrudgingly love them both).
So last night's highlight for me???
Well, duh!!!!  Panty by Post! I've only been dying to meet the sexy gals behind it for months, not to mention, finally getting the opportunity to caress their luxurious European panties.
Which brings me back to Santa. I know the Holidays are about the giving.  But if you so happen to want to give me a present this year, Panty by Post would give both you and I something, that is if I were to happen to post a pic or two of me modeling my monthly panties. Just saying, you know, in case any of you are wracking your brain as to what to give me aside from hugs and kisses.  You know I'd hate to think I was causing any of you stress in life.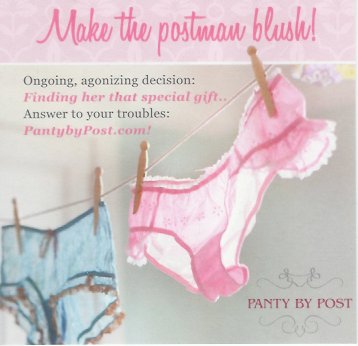 Now this brings me to a conversation and debate a 'girlfriend' and I were having last night after fondling the wonderfully soft men's briefs they had out for the snuggling. How soon can one mail a man panties?  Is it ever too soon in a relationship to do such a thing?  I mean my 'girlfriend' wouldn't want to scare him off or come across as a tart.  Also gents, how personal are a man's panties to them?  Would you wear panties a gal sent you?  Would you wear these? And then there's the question of sizing …
Food for thought.  And please do share those thoughts!
Kisses,
Emme xoxo
PS Thanks to Maura, Danny, Dimitri (and Sonia) for another great Launch Party!
PPS LATE BREAKING NEWS … this just in ….. Panty by Post is offering all my readers 20% off on theor pre-Christmas (2010) orders. Just enter holidaydeal20 into the coupon code section after you select your package! Wahooo!