I've been joking about sending panties for the holidays, but truth be told I am not really a holiday gift kinda gal.  Rather, the holidays for me are about spending time with the people we love, whether to fight, cry or laugh.  And I must admit I've been pretty gosh darn lucky, because every year that is exactly where I am, surrounded by people I love.
Tonight I was talking with my Dad about Christmas presents.  He told me that growing up each year he just had one present.  Without really realizing it, he had set up the same tradition for us, albeit slightly masked by the gazillion presents Mom buys for us.  Dad's present every year actually represents my favourite holiday tradition.  His present is not a tangible one, but rather one about sharing time together enjoying something very special, the Arts.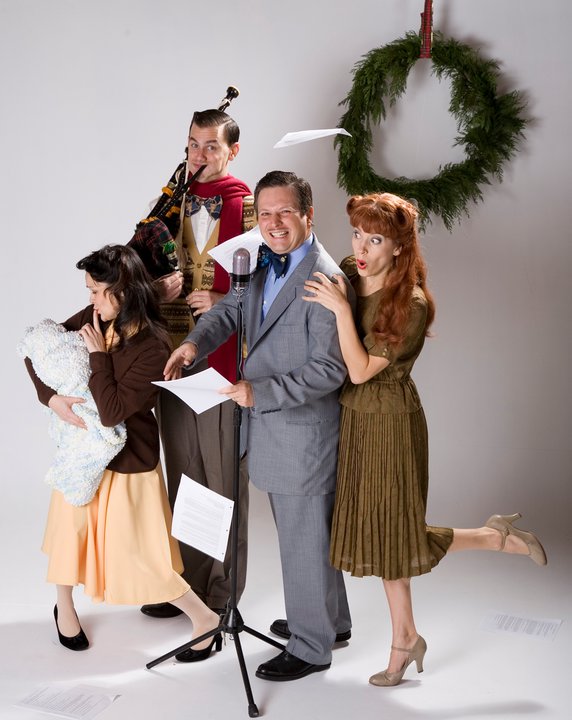 I think I'm pretty lucky to be able to regularly enjoy great theatre and music live with my loved ones, but I was reminded before leaving Vancouver that we are very fortunate in VanCity to have a lot of talented actors and a number of theatres and theatre companies.  This delightful reminder came in the form of Christmas On The Air, a heartwarming play about the holiday hiccups of one family coming together to put on their annual Christmas Eve Show for listeners on the radio.  It doesn't hurt that I already have a great love for radio plays, but seeing the actions and expression that went into this family creating their Christmas Eve radio plays cracked me up.  Such a talented cast (Diana Kaarina, Benjamin Elliott, Seana-Lee Wood, Lalainia Lindbjerg, Damon Calderwood) of terribly funny character actors! And like my family they fought, laughed and cried, along with singing festive tunes, which completely put me in the Spirit of Christmas.
If you wish to enjoy the gift of the Arts with your loved ones this Holiday Season, Christmas on the Air is on at the Pacific Theatre until January 1, 2011.  The theatre itself could also use a gift to stay on the air.  They are looking to raise funds to keep on going in the New Year.
Kisses,
Emme xoxo