A few nights ago I realized just how long it had been since I'd been to the theatre. I still can't remember the last time I'd set foot in one; suffice it to say, it'd been a long and tiresome drought. So when Emme, being out-of-town, offered me two tickets to an opening night at the Metro Theatre, a little drama-hungry beast inside me — one I didn't know had been quite so neglected — jumped at the opportunity. I didn't even need to know any details, like what the play was about, for a start — only that I wanted to be one among the wrapt crowd in the darkened playhouse, forgetting where I was for spectacle before me.
So happy a camper was I that I didn't feel the need to do any research about what  Harvey, the play, was about. Or about Mary Chase for that matter, the woman who wrote it. You can imagine then what I felt a few scenes into Harvey, when I realized that I wasn't just getting a play, but one that resonated deeply with questions I really care about. One such question is: Who is 'crazier': someone declared to have gone 'round the bend, or the people that lock that person up?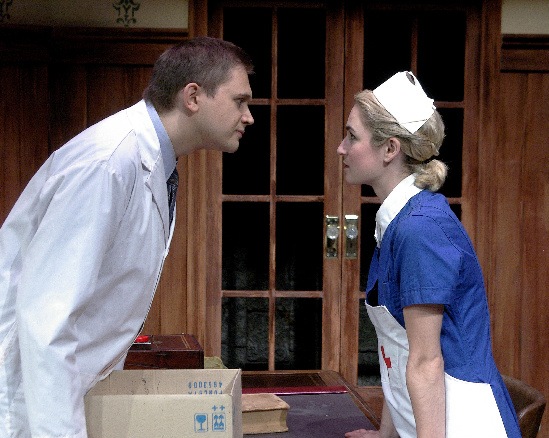 While this sounds like a heavy question, Harvey illustrates it in a comedy of errors that is light and charming, and occasionally laugh-out-loud hilarious. With characters like a flabbergasted socialite, a confident-but-mistaken psychiatrist, the eternally charming Elwood and a strangely maniacal sanitarium assistant at play, there is scarcely a moment to brood ponderously over heavy questions. I was happy to just be carried along (and away) with the plot.
Another reason — perhaps the main reason — that the play was so enjoyable is the magnetic, disarming warmth of Elwood, played by the wonderful Trent Glukler. Elwood is so loveable that the stage seemed a little bit darker when he was not on it. (This may have been the lighting, but I'm 95 percent sure it was Elwood lighting up the stage. I may have a tiny crush on him). It seems he can do nothing but rub strangers the right way — nothing, that is, except mentioning Harvey.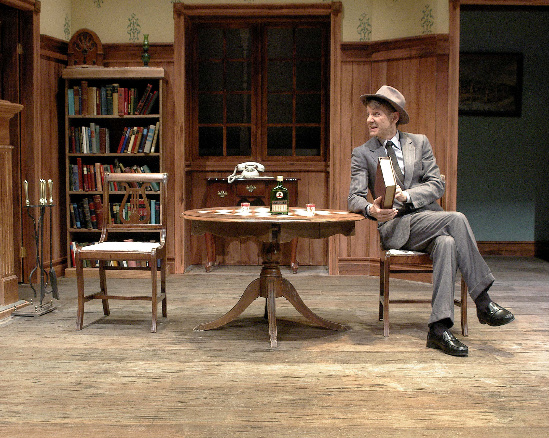 No more can be said about this production without spoiling; but I will say thank you to director Cristi Lowis for a lovely performance and congratulations to the great cast, many of whom have not been mentioned here: Susan Cox as Elwood's sister Veta, Kate Kysow as her daughter Myrtle Mae, Lawrence Green as Dr. Chumley, and Diana Sandberg as  Mrs. Betty Chumley. I found Susan Cox's performance most interesting, as Veta's character develops over the course of the play in a way that makes her grating in one moment and endearing in the next.
You can see Mary Chase's Harvey at the Metro Theatre until July 16th. Performances will run from Thursday to Saturday at 8 p.m., with two Sunday matinees on July 10th and June 26th.
One last thought: This was my first visit to the Metro and I made the rather important discovery that it is an ideal date place; comfortable and close seating, dim lighting, an art gallery upstairs, and all this inside a quaint, well-maintained old building that is hidden away on the side of a highway, where no one would think to look. Fetching as Elwood is, it would be a good place to ask someone else along.