Who doesn't love the jazz age? The Thirteenth Chair at Studio 58 is an unusual murder mystery set in a New York speakeasy in 1929. The Studio's production of Bayard Veiller's play draws heavily on theatrical and cinematic styles of the era, making the play feel like an evening's immersion into the 1920s themselves. The 13th Chair presents a theatrical medley containing elements of dinner theatre, silent film, vaudeville, and the classic "whodunnit". Throw in a little bit of paranormal activity, some melodrama and family intrigue, and you have a hilarious, exciting, entertaining production, brought to you by the  students of Langara's Theatre Arts program.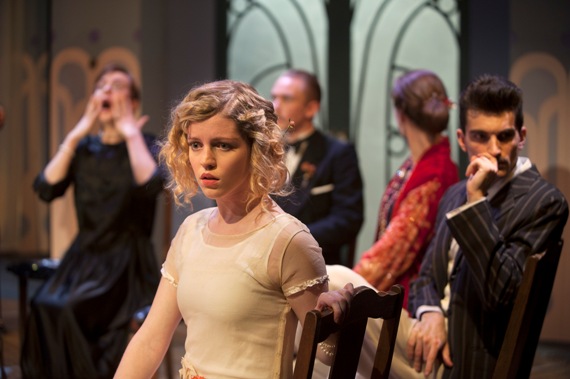 I'd never been to Studio 58 before last night, and I have to say I have fallen in love with the place. Sure I had to navigate my way down a few winding staircases to get there, but for me that provided added charm — when you're going to see a murder mystery on the rainiest of November nights, it only makes sense that the path to the theatre would have its perils. Cue thunder and all that. But fun aside, I was really impressed by how small and secluded the Studio 58 theatre is.  Draped with heavy purple fabric all around, with strict rules about exits and entrances, the audience and actors really are in a little world of their own for the duration of the play. It seems like the perfect set up for the audience to be drawn right into the story happening only a few feet away. With actors as talented as the ones in this cast, that's exactly what happened.
Now a bit about the story — we enter it on the eve of an engagement between the son of the wealthy host and his sweetling (pictured above). Just when before their engagement is announced, a family friend (Edward Wales) objects strongly, begging the boy's parents to wait 24 hours before they allow the engagement. His misgivings cast a shadow of suspicion upon the innocent looking Ms. O'Neill.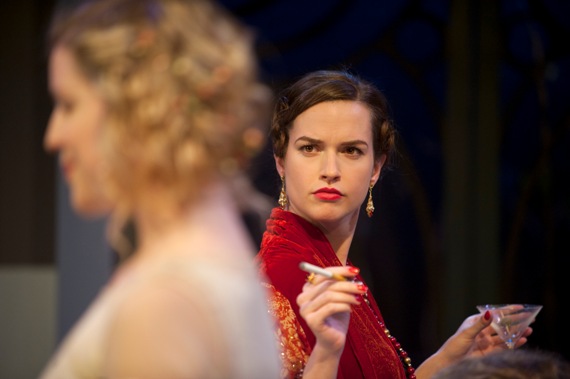 Much to everyone's frustration, Wales can't say anything about why he is suspicious, and only begs them to wait and see what the evening brings.
Later that evening a vivacious medium arrives at the party. The medium is to hold a seance that will reveal who murdered Wales's friend, Spencer Lee — we can gather than one of the party guests is guilty. After much skepticism, laughter and magical demonstration, the group sits down to their seance. When the light's come back on. . . can you guess? Here's a hint: the services of one Inspector Donahue are required, and he is summoned immediately.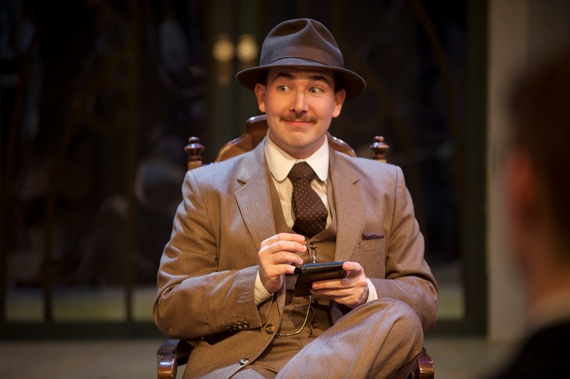 Don't let the Inspector's expression there fool you, he's a hard-boiled detective, he is. With evidence and everything.
But don't worry about the story ever getting too dark. When things threaten to get too serious, the two entertainers (who's clever stage names have slipped my mind) accompanied by live piano music (composer Matt Grinke) take the stage with silly, feel-good numbers that you'll be humming on your way home.
Thanks to director Sarah Rodgers for this wonderful play! And a warm congratulations to the whole cast and crew — there are so many talents that have contributed to this play — including an Irish Dialect Coach (Ashley O' Connell) — that I can't possibly name them all. Notable faces of the cast include: Cheyenne Mabberley as the medium Rosalie Le Grange, Kazz Leskard as Inspector Donahue, Stephanie Moroz as Helen O'Neill, Katey Hoffman as Grace Standish (whose character I am certain draws from Popeye's Olive Oyl) and Joel Baillard as Edward Wales.
The costume and lighting crews are magicians, and their talent and hard work is hard to ignore in this performance.
You can see The 13th Chair at Studio 58 until December 4. Showtimes are at 8 pm from Tuesday through Saturday, with matinees at 3 pm on Saturday & Sunday.
P.S. Outside, during intermission, I found a flyer entitled "Do the Charleston like a pro!", containing steps to the popular dance whose name I hitherto had not known. Thank you Studio 58  for educating me, about the dance and the name. While waiting for the bus in the shelter of the Canada Line station later that evening, I practiced the steps as I remembered them from the flyer. It seemed like the only thing there was to do, since it was still pouring rain and the bus was certainly taking its time.  I'm sure I provided entertainment for my fellow stranded travelers. And soon I am sure I will dance it like a pro. After all now I have inspiration.