For those of you that have been reading here for awhile, you'll know that we have a huge love of the theatre, and that when I'm not attending the latest piece of theatre in Vancouver, Alyzee Lakhani is. One of our favourite ways to spend an evening! Well, for the last week, we've been regrettably having to turn down all of those lovely theatre invites, with Alyzee in Mozambique and me (hopefully) road tripping to Savannah, Georgia.
The upswing of Alyzee and I missing out is that Langara College's Studio 58 has decided to extend our two tickets to you delightful people in a little theater giveaway for their latest play.  I'll get to that in a minute, as first I'll fill you in on the play.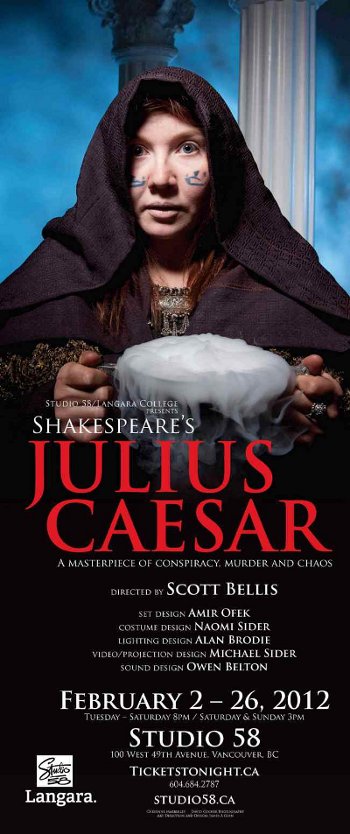 The play is Shakespeare's Julius Caesar, but Julius Caesar with a twist, a Julius Caesar gender bender.  You see, when casting for the play, Director Scott Bellis decided to break with tradition and offer the parts of Caesar, Brutus, Cassius and Octavius to women.  I must say this very much tickles my fancies, as traditionally the parts of women in Shakespeare's play would have been played by men.
For those of you not familiar with Julius Caesar, it is Shakespeare's masterpiece of political power-play and manipulation, examining the conflict between one person's ambition and the good of the state, all set in a life-and-death struggle for control of Rome. As Director Scott Bellis puts it, this is very much a tale involving traditional male roles and a story of 'honourable men'. "In this alternate telling, we are discovering what it means for a male Mark Antony to avenge a female Caesar; what a same-sex marriage looks like in the house of Brutus;  and how being a 'man' can say more about your social status than your gender in this very different vision of Rome."  Sounds fascinating!  Would love to see how all of this unfolds.
And if you are curious about Studio 58, you can read of Alyzee Lakhani's most recent experience there with The 13th Chair.
So the Giveaway.  We have a pair of tickets to giveaway here and a pair to giveaway on Roamancing (stay tuned for that giveaway in a day or two) with your choice of Wednesday February 8th at 8 pm, Thursday February 9th at 8 pm or Saturday February 11th at 3 pm.  For the giveaway here, to enter:
Comment below with which Shakespeare character, of the opposite sex from you, you would love to play;
Deadline Thursday February 2nd at midnight PST.
To be entered a second, third and fourth time:
Tweet this post with me, @EmmeRogers and #VancouverTheatre somewhere in the tweet, so I see the tweet;
Share this post on facebook and include @Roamancing in the text when you post it (this should link Roamancing's facebook page, so I'll see the post); and/or
Share this post on G+ and include @Emme Rogers in the text when you post it (this should alert me on G+ of your post).
I shall pull the name of one lucky winner from commenters, tweeters, facebookers and G+ers, and announce the winner on Friday February 3rd.  Very much looking forward to making somebody happy!
Oh, and if sadly you don't win, the play is running at Studio 58 February 2nd – 26th, Tuesdays – Saturdays at 8 pm and Saturdays & Sundays at 3 pm, and tickets can be purchased here.
Kisses,
Emme xoxo