One of the things that I love about Roamancing is all the great characters I meet on the road. Memphis was certainly no different. I've already introduced you to a few of the Canadians we met, but I am long overdue in introducing you to the great Memphis locals.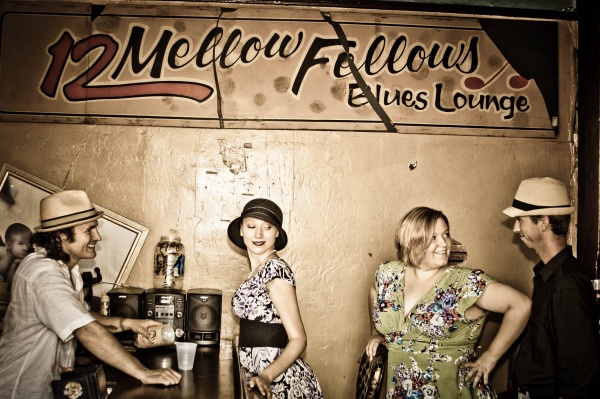 Specifically, just now, I am envisioning two that were center stage every night at The Pig on Beale, during the 2012 International Blues Challenge. Him, because he was doing a splendidly personable job of MCing the venue, and her, because she was always wearing the most wonderfully charming outfits from times go by. Who were they? Foxy husband and wife, Christian and Vera Stanfield. Turns out, that not only did they look good and could carry a music competition, but they too were talented musicians themselves with their own band, the Side Street Steppers.
Have always loved vintage tunes, it's part of the reason why The Good Lovelies have always appealed to me, and these cats have the personality to boot. Funny as all get out, total characters, and just check out the dancing!  After the above video, I am feeling quite unworthy of the praise they gave Jesse Roper and I for our dancing.
Oh and even though I didn't snap a shot of Vera's outfits, as I left my camera behind in the evenings, she did tell me where I could find some vintage outfits of my own at Crazy Beautiful. Will be sure to visit on my next trip to Memphis, Tennessee, and then wear the outfit out to a live performance of the Side Street Steppers.