With our contest closing at midnight for tickets to Victor Victoria at the Metro Theatre, I thought I'd share some of the reviews rolling in for Vancouver's Premiere of this entertaining musical and the return of Jeff Hyslop to the Vancouver stage.  But first, be sure that you enter to win a pair of tickets to the musical: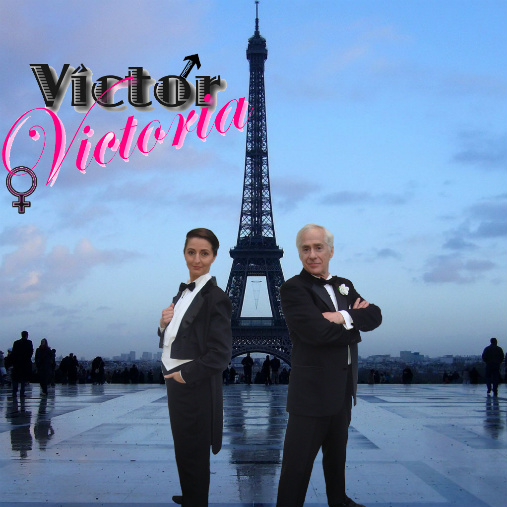 The Interviews …
What do you do when you've done it all? If you're triple threat Jeff Hyslop you look for projects that excite you, like Metro Theatre's upcoming production of Victor/Victoria.  And if you're director Mark Carter, you realize size sometimes does matter.

"It's all about the script and this is a quality script.  I didn't hesitate," explained Hyslop (pictured right with director Mark Carter).  "It was perfect timing too as I was moving back to Vancouver and it wasn't a starring role so the weight of show wasn't going to rest on my shoulders."
What does one limit themselves to asking when doing an interview with one of the most prolific and successful Canadian Triple Threats, actor, singer, dancer, the notable Jeff Hyslop? (Actually, "Quadruple" as he is also a director.) My challenge was to direct the myriad questions I had and the stories he had into the short, but time-stopping two hours we shared. Publicist Cheryl Hutcherson set the scene comfortably and we soon sailed into the creative, exciting, rich world of Jeff Hyslop.
Opening Night Reviews …
With Opening Night, just last night, the Reviews are only just coming in, so I will be updating this section, as I see more.
It's always a full house when the yearly musical is presented at Metro, and the cast and crew deserved the proplonged standing ovation on opening night.
Filling in for an injured Jeff Hyslop, understudy Seth Little was opening night's highlight as Metro Theatre presents the stage musicalVictor/Victoria. …  Almost at par with Little's wonderful performance Saturday night was the scene-stealing Karin Inghammar as Norma Cassidy who milks every ounce of fun from the ditzy blonde moll as she drops malapropisms like bonbons across the stage.
Catch Victor Victoria at the Metro Theatre in Vancouver from March 17th – April 7, 2012, with performances on Wednesdays to Saturdays at 8pm and two Sunday Matinees on March 25 & April 1 at 2pm. Tickets can be purchased here.