One of the downfalls of having been on the road these past few months has been having to turn down all of the lovely Vancouver Theatre tickets.  Fortunately Alyzee Lakhani has been able to attend in my stead and I've been able to experience all the great theatre I've been missing through her prose, or at least I was until she hit the road too (she's in Mozambique, so stay tuned for her tales from there on Roamancing). Our loss, however, is your gain, as we've asked that our tickets be given to a lucky reader here and on Roamancing.  And a loss it is for us, as this next musical would have very much tickled my fancies.
So what is the musical you ask?  Victor Victoria at the Metro Theatre, based on the 1982 musical comedy film by Blake Edwards (adapted from the 1933 script of a German film by Reinhold Schünzel), which I am sure there are a few in Vancouver's Arts Community that could relate to the premise behind this story.  You see Victoria (played by Sylvia Zaradic) is a struggling performer looking for her big break. On the advice of Toddy, a middle-aged gay performer, Victoria takes on the real life role of Count Victor Grazinski, a gay Polish female impersonator.  Why you ask (or at least so you asked in my head)?  To get an agent and her big break, of course, and that is exactly what she does.  Only, as I am sure you can imagine, it is not all that smooth sailing playing the part of a man, when you become the bed 'fellow' of a known gangster.  Bring on the conundrums, misunderstandings and delightfully ridiculous!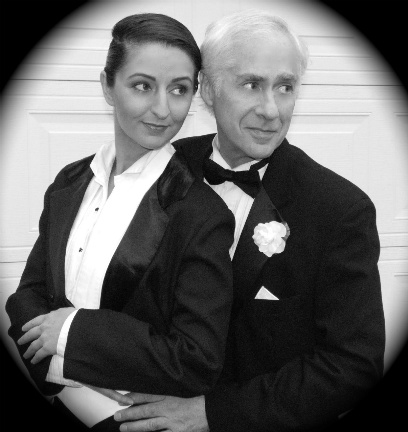 Now, if this hasn't perked your curiosity, just wait until you hear who is playing Toddy!  None other than Jeff Hyslop, the quintessential Phantom of the Opera from the traveling Canadian Production!  Also known, by those of you close in age to me, as Jeff the mannequin in the children's show Today's Special.  The Metro Theatre puts on great musicals, but with Jeff Hyslop in the cast, this is one musical not to miss.
So how do you win the tickets?  We have a pair of tickets to giveaway here and a pair to giveaway on Roamancing (stay tuned for that giveaway in a day or two) with your choice of Wednesday March 28 or April 4th.  To enter:
Comment below with something crazy you have or would do for your dream job;
The Deadline to enter is Sunday March 18th, 2012 at midnight PST.
To be entered a second, third and fourth time:
Tweet this post with me, @EmmeRogers, @MetroTheatre and #VancouverTheatre somewhere in the tweet, so I see the tweet;
Share this post on facebook and include @Roamancing in the text when you post it (this should link Roamancing's facebook page, so I'll see the post); and/or
Share this post on G+ and include @Emme Rogers in the text when you post it (this should alert me on G+ of your post).
I shall pull the name of one lucky winner from commenters, tweeters, facebookers and G+ers, and announce the winner on Monday March 19th.  Very much looking forward to making somebody happy!
Oh, and if sadly you don't win, the play is running at the Metro Theatre in Vancouver from March 17th – April 7, 2012, with performances on Wednesdays to Saturdays at 8pm and two Sunday Matinees on March 25 & April 1 at 2pm. Tickets can be purchased here.
Kisses,
Emme xoxo