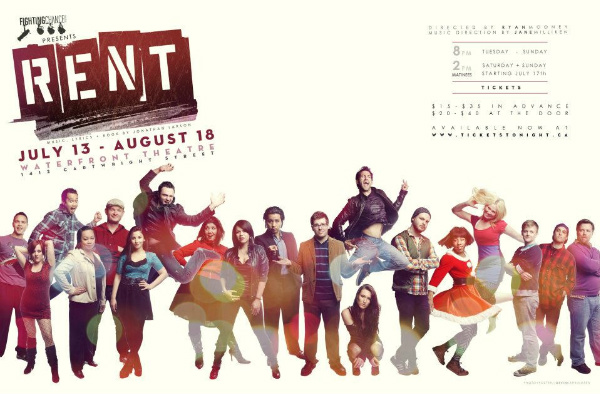 I remember hearing all sorts of great things about Rent, the Rock Musical, when it first hit Broadway, but in those days I was a poor student myself and couldn't afford the ticket.  Since then, I have been lucky enough to see La Bohème, the opera by Giacomo Puccini that Rent is based on. I loved it!  It told a tale of a collection of vignettes portraying young bohemians living in the Latin Quarter of Paris in the 1840s.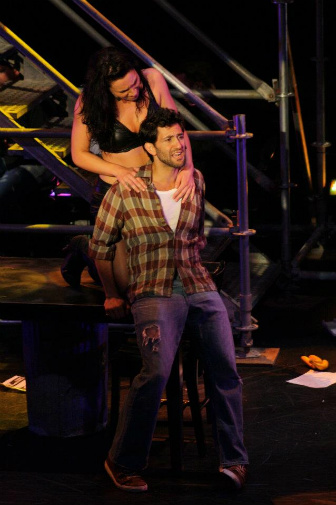 It wasn't until later that year when I saw the movie version of Rent that I realized that it was based on La Bohème, only Rent had been modified by Billy Aronson and Jonathan Larson to create a Rock Musical that tells a more modern day story of a group of impoverished young artists and musicians struggling to survive and create in New York's Lower East Side in the thriving days of Bohemian Alphabet City, under the shadow of HIV/AIDS.  As much as I loved La Bohème, Rent the film was just okay in my mind, nothing that really excited me. So I'm afraid when Megan got all excited about Rent coming to Vancouver this summer and admitting that she sees it on the stage every chance she gets, which now totals 4 times, I didn't quite get her enthusiasm.  I should have realized this was because I'd seen the movie rather than the real thing. Movie versions of books and theatre always have a way of disappointing me. Now that I've seen the actual musical, I get Megan's enthusiasm, the musical ROCKS, literally. And as a gossipy aside, I also now understand that the dear Megan is a creature termed a RENT-Head, just in case anybody wants to better understand her.
The production of Rent that I had the pleasure of seeing this past week was that of Fighting Productions' at the Waterfront Theatre on Granville Island.  Having been a patron of Fighting Chance Productions since 2009 and away from Vancouver this past year, I was pleased to see how the company has matured and continues to impress me in the way they did with Hair! and Sweeney Todd ~ really giving an enjoyable performance of singing, dancing and storytelling.  I loved the early days of the exuberant cast, but am even more impressed to now see the company mature and have the confidence to let each other shine in the spotlight, bringing the characters to life with passion and a keen understanding of story and character.
As I watched Rent with Hannia, I couldn't help but have flash backs to Brie and I sitting in the same theatre two summers earlier to watch many of the same cast perform Hair!  That was a HOT night!  And Rent definitely gave me HOT and BOTHERED flashbacks to said night, and not simply because they had quite the cast of lookers that suited the age of the characters they were playing, but because the Company at Fighting Chance Productions has always done a brilliant job of the tease, really knowing how to turn up the CARNAL HEAT of the theatre.  Note to Self: I really must stop taking gal pals to their HOT SUMMER productions and start taking a fellow that I wouldn't mind turning the heat up with myself, as despite AIDS being a part of Rent's story, the musical had me feeling hot and bothered, and I wouldn't have minded a bit of (safe) boom chickywawa of my own.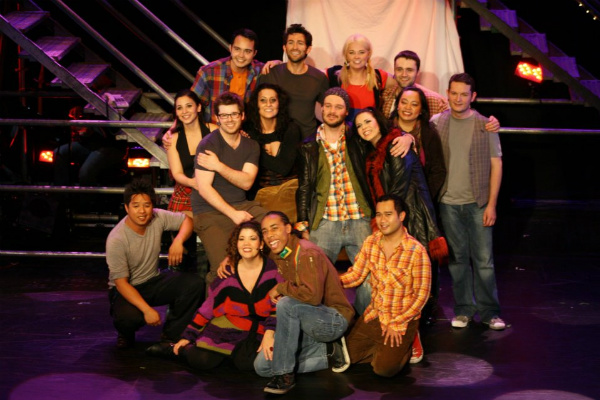 To the cast and crew: Well Done! I very much enjoyed myself.  I thought you all did a brilliant job, from Spencer Fisher as Mark, Craig DeCarlo as Roger, Emily Canavan as Mimi, Matt Hume as Collins, Jenn Suratos as Joanne, Chelsea Rose Tucker as Maureen, Aaron Lau as Benny, and Hal Rogers as Angel, along with the fabulously talented supporting cast. I must admit though that Hal as Angel was my highlighted. Hal took me from stitches of laughter to tears.  And I'd be remiss if I didn't point out that it was all the hard work, trouble shooting and design that they put in with the talented production team lead by Director Ryan Mooney, that helped make their performances so seamless.  Not to mention the wonderful job by the band in setting the atmosphere and mood with the music. Thank you!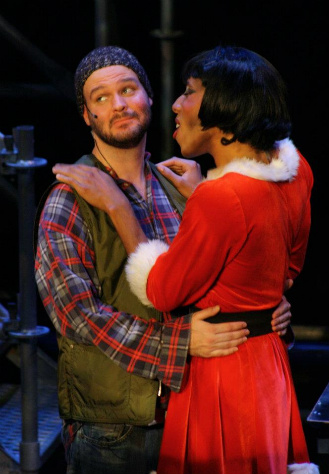 For more on Figthing Chance Productions Rent, you can read others' thoughts on the musical via the links below:
Catch Fighting Chance Production's version of Rent on stage at 
Granville Island's
 Waterfront Theatre in 
Vancouver
 Tuesday to Sunday nights at 8 pm, now until August 18th, 2012 with matinees at 2 pm on Saturdays and Sundays. Get your tickets here.
For cheaper tickets to Rent, a select number of rush tickets will be available at the box office before every performance for just $20!  Just head to the Waterfront Theatre box office one hour before any scheduled show and quote the word "ANGEL".
Enjoy!
Emme xoxo