Little Shop, Little Shop of Horrors, Little Shop, Little Shop of Horrors, Little Shop, Little Shop of Horrors, Oh Oh Oh Oh Ohhhhhh ….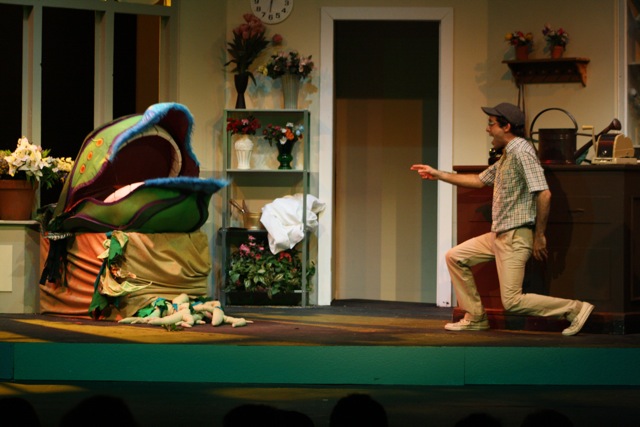 Funny how there are certain things  ~ sounds, smells, pop culture references … etc ~ that take us right back to being a kid again. Little Shop of Horrors ~ the song, the story, and the giant man person eating plant ~ do just that for me.  I felt like a teenager all over again at Opening Night of the Little Shop of Horrors at the Jericho Arts Centre, complete with the feeling of not being quite sure how to behave with my date and all the awkwardness of not being at all sure where to put my hands.  I LOVED Little Shop of Horrors as a teen, and this was certainly not something I'd outgrown.  Hell, I even awkwardly approached the Plant afterwards dying to ask it for a picture and was somewhat star struck when the Master of it's Mouth offered to show me how he made him move just so.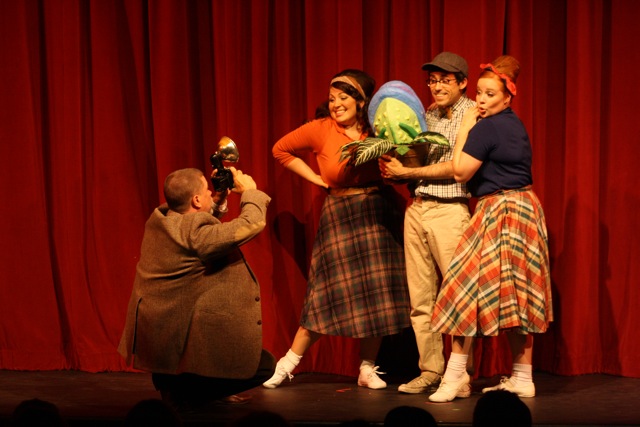 Thank goodness my date was experiencing his own similar moments of awkward nostalgia, drooling over the gals in their period pieces and having difficulty remaining seated during the music.  He wanted to dance, no doubt with the leading lady, whose vintage blouses, skirts, stalkings, and heels kept his jaw a dropping. I was okay with that though, as she did look HOT and it was rather amusing and somewhat insightful.  Curious if I could pull off such an outfit?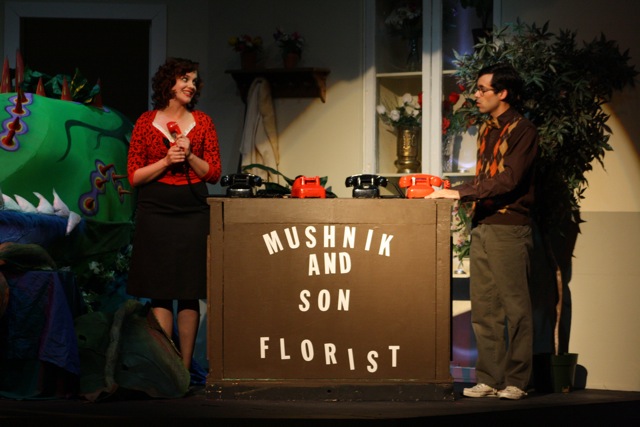 So in case you hadn't already guessed it, HOT diggity DAMN! Fighting Chances Production's Little Shop of Horrors was good and I thoroughly enjoyed myself!  Despite the nostalgia … no actually in spite of the nostalgia this was one HOT number. I say in spite, as often I am more critical of reenactments of stories I grew up with, but this one thoroughly satisfied!
For those not familiar with the story … FOR SHAME!!!  Nevertheless I shall enlighten you …
Little Shop of Horrors is a dark comedy rock musical, by composer Alan Menken and writer Howard Ashman, about a hapless florist shop worker who raises a plant that feeds on human blood and flesh. The musical is based on the low-budget 1960 film directed by Roger Corman, with music, composed by Menken in the style of early 1960s rock and roll, doo-wop and early Motown, including the title song, "Skid Row (Downtown)", "Somewhere That's Green", and "Suddenly, Seymour". (care of Wikipedia)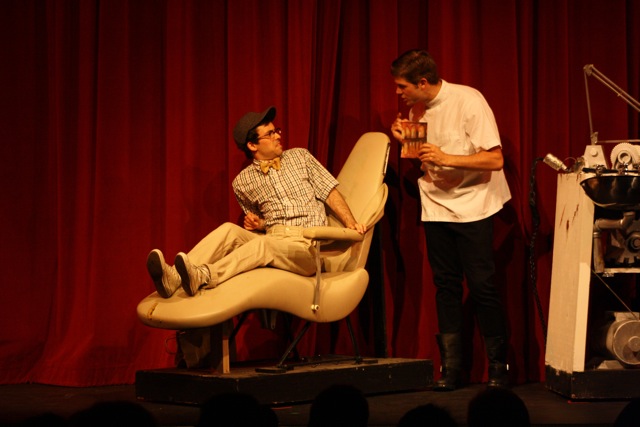 And dark comedy, happens to be what in this writer's opinion, Fighting Chance Productions does best.  Don't get me wrong I loved their renditions of Rent and Hair, but they have the perfectly delightful warped sense of humour for dark comedies like Sweeney Todd and Little Shop of Horrors.  I also find with such smaller musical numbers of the darker persuasion, they tend to diversify their cast more, from the contagious youthful enthusiasm of their larger musical numbers (although this could also be this theatre company maturing with time).  This was certainly the case with Little Shop of Horrors, whose cast I absolutely adored and who each brought their roles to life with humour, in the most endearing of manners. Bravo to Kerry O'Donovan as Seymour Krelborn, Melissa Clark as Audrey, Nick Fontaine (voice) and John Lee (manipulator) as Audrey II, David Nicks as Mr. Mushnik, Greg Delmage as Orin Scrivello (DDS & Others), Ria Manansala as Chiffon, Nicole Stevens as Crystal, and Veronika Sztopa as Ronette.  All accompanied by the toe tapping music of a most enjoyable Orchestra ~ Jane Milliken, Vashti Fairburn, Erin Hope-Goldsmith, Graham Clark, Mark Richardson, and Allan Dionne.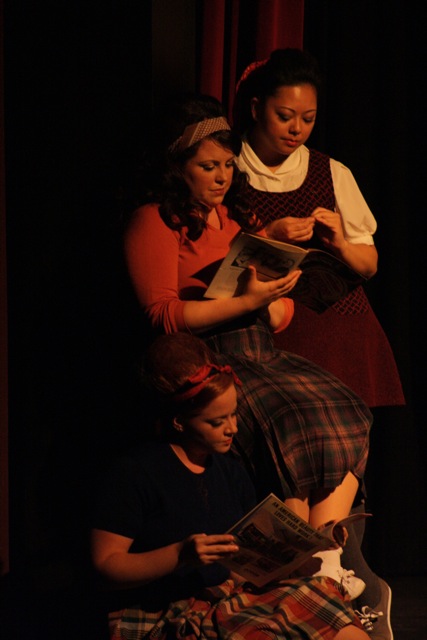 Now you know that when the performers look so good and pull off such a seamlessly effortless and most enjoyable performance, that a lot of work has gone into this from the Production Team too.  That said, a thank you and a big round of applause to Director Ryan Mooney, Music Director Vashti Fairbairn, Choreographer Angela Cotton, Stage Manager Jenn Wilson, Assistant Stage Manager Chelsea Ramos, Dance Captain Nicole Stevens, Costume Designer Oriana Camporese, Lighting Designer Matthew Bissett, Set Designer Andrea Olund, Set Decorators Vanessa Klein and Lisa Pavilionis, Props Naomi Mitchell, Photographer Deven Karringten, and Program Designer Angela Cotton.  Well done everyone!
So Vancouver, if you want to take a date out for a bit horror that will tickle the funny bone this Halloween month, this is the Show for you! Catch Little Shop of Horrors now until October 27th, 2012 at the Jericho Arts Centre, Tuesday to Saturday nights at 8 pm, with a midnight Show this Friday October 19th and a matinee this Sunday October 21st at 3 pm. Get your tickets here.
Kisses,
Emme  xoxo