What would you do if invited on a rainy Vancouver night, down a back alley, into the lives of two serial killers?  Normally run like Hell to the nearest police station.  If the invite, however, comes from Fighting Chance Productions to the latest creation directed by Ryan Mooney, I'll admit curiosity superseded better judgement, at least in this gal. Now, I'm not completely without caution and better judgement, to air on the side of self-preservation, I was sure to invite a date that I could outrun, just in case I needed a decoy.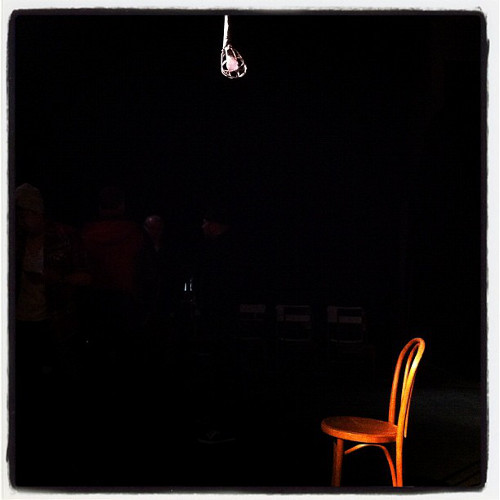 Both my date and I were glad we threw caution to the wind though, as we were rewarded by a phenomenally well told and acted story in a curious new theatrical space in town.  Starting with the space, as it was admittedly most interesting and the first thing that struck us upon arriving ~ the new theatre in question, is called Renegade Studios, which is rather fitting given the nature of this inaugural production in the space. This curious of theatres is actually an old warehouse space, entered through a back ally between 1st Ave and 2nd Ave by Main St., barren yet adorned with all sorts of curiosities on the walls and hanging from the ceiling. Turns out, this was due to it being the old prop warehouse for the Playhouse. Having been warned to dress warmly, I rather enjoyed this space, I'd only advice you to bring your own seat cushion.
As for the play itself, Thrill Me: The Leopold and Loeb Story performed by Fighting Chance Productions is the Canadian Premiere of a musical by Stephen Dolginoff based on the true story of 1924 thrill killers Nathan Leopold and Richard Loeb. For the Criminal Minds fans out there, this tale has all the makings of a CBI Investigation with what appears to be a pair of serial killers in the making.  Just the thrill one would expect to get when wandering down a dark alley on 'a dark and stormy night'.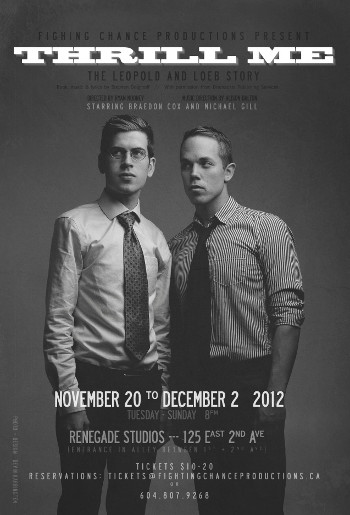 In all seriousness, a thrill is indeed what actors Braedon Cox as Nathan Leopold and Michael Gill as Richard Loeb gave us.  Despite being in a sparsely decorated space, that set the tone for the starkness of a prison, these two men brought a series of spaces and emotions to live before our eyes through their adept ability to tell a story. Just be warned this is no comedy and will (with compliments to the men on the stage) strike a cord and impact your emotions (or at least they did for me and in ways that I didn't imagine). Disturbingly I found Richard Loeb reminded me, with his manipulation of Nathan Leopold of a past lover I am embarrassed to have had. Watching his sexual cues, I was reminded of why I'd fallen hard in lust and how terribly destructive it had been to me, yet I still could not help but feel a certain arousal at watching Richard's all too familiar advances, and I'll admit it, I did ogle his fine posterior with a smile more than once during the performance. I shudder that a creature like that could still evoke feelings of desire in me. Especially as I listened to the lines Richard Loeb used to lure the kid he killed into his vehicle. His lines were all too real and well acted out. One line in particular hitting a cord in me and taking me back to the age of 16 and a snowy walk home.  A snowy walk home that nearly ended up being my last.  That was the day I had a very scary awakening to the fact that I was not invisible and that I should listen to my inner alarm bells, as I ended up in the vehicle of a man using a line that echoed in this play.  I was lucky. I got out of that car unharmed, but I definitely lost my innocence that day, and my blood still runs cold whenever I think about it.  Marveled at how these actors took me there in a second.
This play was exceptionally good and worth seeing, but I do have to warn you it is not for everyone.  Had this play been about Paul Bernardo and Karla Homolka (two serial killers that taken girls my age from near me when I was a teenager), I would not have been able to watch this, as that story still strikes too close to home for me. My absolute respect and compliments to the cast and crew: Braedon Cox as Nathan Leopold, Michael Gill as Richard Loeb, Ryan Mooney Directing, Mika Laulainen Assistant Directing, Alison Dalton Music Directing and Erin Walker Stage Managing.  My particular respect to Ryan Mooney, who was rehearsing and directing this play, while acting in a particularly funny comedy of errors (Lend Me A Tenor at the Metro Theatre) at the same time.  Now that is range.  Most impressive Ryan!
You can still catch Thrill Me: The Leopold and Loeb Story tonight (Saturday December 1, 2012) and tomorrow night (Sunday December 2, 2012) at 8 pm at Renegade Studios.  Get your tickets here.