It has been a number of years now that I have been attending plays at Vancouver's Metro Theatre, and I must admit to being a bit of a fan of the theatre.  For me, entering this theatre always feels like I am being welcomed into the arms of a beloved old friend.  This made being at the Metro for the theatre's 50th Birthday that much more meaningful, and after all the speeches and accolades were given, so commenced the theatre's 471st production, Lend Me A Tenor.  471 productions!!!  Can you imagine?  Just wander up the stairs to the theatre's second floor lounge and you'll have a little help, with pictures of the theatre and it's productions dating back to beginning.  Quite a wonderfully, enchanting history to view!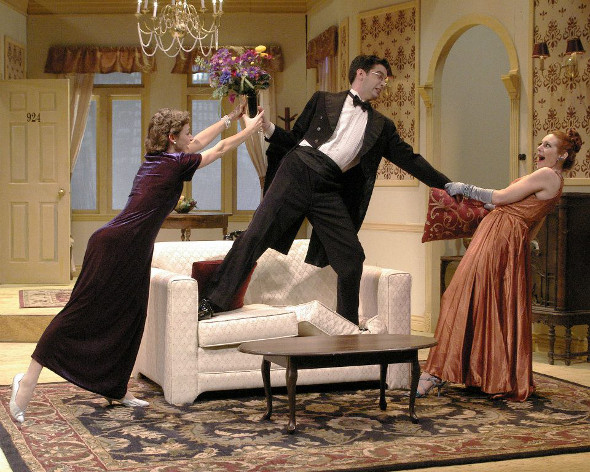 Of all the productions that I have seen at this beloved theatre over the years, I can quite honestly say that this one, Lend Me A Tenor, was my most favourite. And I am not just saying that, because I know two of the leads, Steve Dotto and Ryan Mooney (although admittedly, it was a thrill to see them both on stage). No, I was using an external gauge too, in the form of my date.  He had met Steve before, but that was only very briefly.  Here was his reaction with the close of each curtain, no exaggeration: "Man, this is good!" "Wow! Steve is fantastic. So funny."  My date had been to a few plays at the Metro Theatre with me, and we agreed that this was hands down the best, most enjoyable, and strongest cast (all of them, not just Steve and Ryan) we'd seen at the theatre. Well done!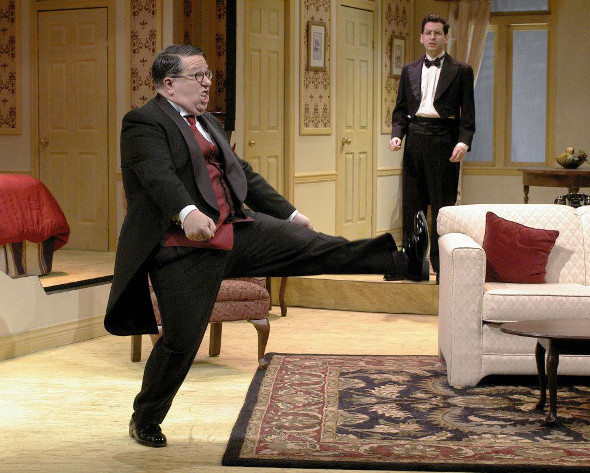 Lend Me A Tenor for those unfamiliar with the production is a comedy of errors, set around the behind the scenes drama of the open night to an opera, by internationally acclaimed playwright, Ken Ludwick.  It is a most hilarious production, especially when performed with the comedic timing and strength of this cast. Bravo to Ryan Mooney as Max, Jenna Grubaugh as Maggie, Steve Dotto as Saunders, Joel D. Montgrand as Tito Merelli, Anita Reimer as Maria, Bon Dos Remedios as the Bellhop, Kathryn Stewart as Diana and Val Dearden as Julia.   I can't remember whether or not the cast received a standing ovation, but if they did not, they most certainly deserved one.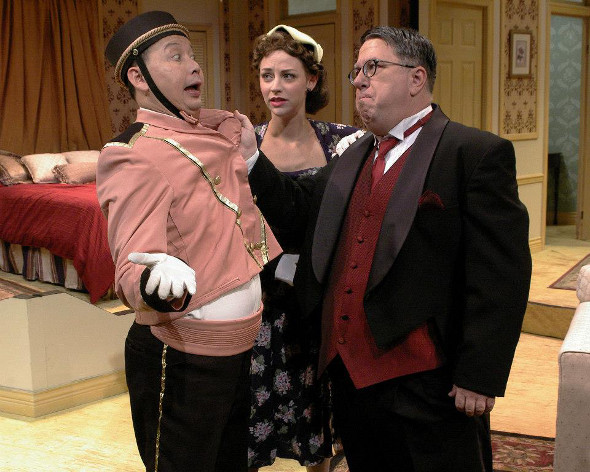 Now something not everybody appreciates, but I feel must be pointed out, is to make a great Show on the stage, a tremendous amount of work has gone in behind the scenes.  And really it is all the behind the scenes work that has brought this theatre to it's 50th birthday and 471st production. Without this, I would likely not have been sitting in the theatre for this auspicious occasion. I take my hat off to the behind the scenes crew of this delightful production ~ Catherine Morrison (Director, Set Designer & Sound Designer), Heather Stewart (Producer), Ann G. Fisher (Vocal Coach), Anthony Stonechild (Stage Manager), Deborah Watts (Assistant Stage Manager & Backstage Crew), Les Erskine (Technical Director, Set & Lighting Designer), Zoe Watson (Costume Designer), Rob Walters (Make Up & Hair), Colleen Shook & Devon Busswood (Properties & Backstage Crew),  Dwayne Campbell (Head Carpenter), Tracy-Lynn Chernaske (Set Decorator & Scenic Painter), Sean Ullmann (Wardrobe Manager), Brian Campbell (Photographer), Steve Dotto (Publicity), Linda Sharp (Publicity Artwork), and Johnny Duncan (Program Compiler). Fantastic job everyone!
With one week left of performances, you don't want to miss Lend Me A Tenor, especially as it is not too often that you get to see Steve Dotto on his knees before Ryan Mooney!  Catch it at the Metro Theatre Thursday, Friday and Saturday nights at 8 pm until December 1st, 2012, and this Sunday (November 24th) at 2 pm. Get your tickets here. (Oh and Thursday nights, the theatre offers a discount.)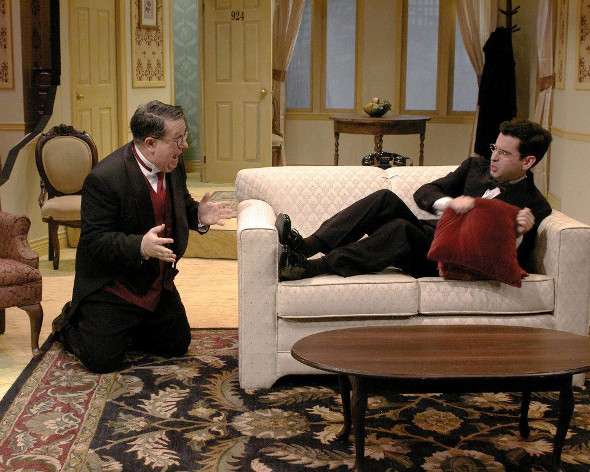 Also be sure to mark your calenders with the Metro's great 50th Anniversary Season ~ Johnny Duncan's Mother Goose (December 14, 2012 – January 5, 2013), Neil Simon's Barefoot in the Park (January 12 – February 9, 2013), Dame Agatha Christie's Murder on the Nile (February 16 – March 16, 2013), Philip King's See How They Run (March 23 – April 20, 2013), and Noel Coward's Blithe Spirit (May 4 – June 1, 2013).
Hope to see you at the theatre!
Emme  xoxo