Rather shocked that I only just discovered John Van Druten's play 'Bell, Book and Candle', thanks to Vancouver's Metro Theatre.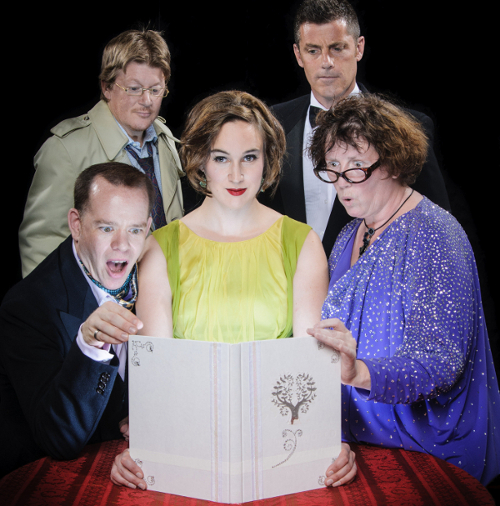 Shocked as this is not a new play, and I am rather fortunate in that I am regular patron of the theatre. Yet this was a new story to me, making it that much more of a treat in discovery.
As I sat down in the theatre with a handsome escort for each arm (New Yorker Peter Parker and loveable tech geek Steve Dotto), the curtain rose to a witchin' good scene ~ an absolutely stunning set (that I invite set designer, Dwayne Campbell, and set decorator, Tracy-Lynn Chemaske, to re-create at my place after the run of the Show) and a woman cuddled up to her cat, chatting away to him. Yep, this was my kind of play!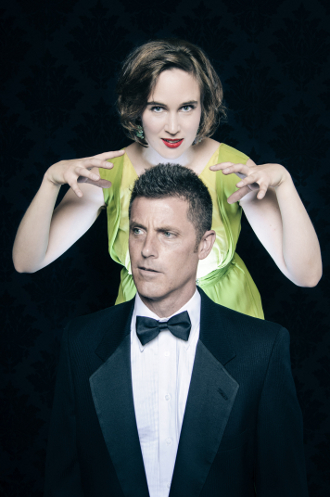 And that it was! A magical tale of whimsy unfolded before my eyes with the delight of a wonderfully eclectic cast of characters, all of whom I discovered were rather splendid character actors ~ Jennifer McLaren as Gillian Holroyd, Jim Bjorkes as Shepherd Henderson, Alison Main-Tourneur as Queenie Holroyd, Trevor Roberts as Nicky Holroyd, and Kevin Sloan as Sidney Redlitch. The first act had my eyes sparkling with delight and a wicked grin spread across my face, after a fast paced tale of wicked desire and ridiculous circumstance played out before us. Was completely hooked with the martini scene between Gillian, her brother Nicky, and Aunt Queenie, that very much reminded me, with a smile, of a similar scene I once acted out from the Witches of Eastwick.
The Director Tracy Labrosse had made excellent choices of blocking that the set design helped make possible, the cast was delightfully costumed to suit their character (and oh, how I loved Gillian's green dress in Act 1) by Costume Designer Heike Maulhardt, and the set decor was fascinating to explore, telling a story of all of it's own.  There was just one niggling thing bothering me about the character of Gillian … maybe this was all part of her character … torn between her witchiness and the desire to fit in with humans, and more specifically a certain human man.
I pondered over that with a beer at intermission, and as I sat down in the wings after intermission, as Steve didn't want to ask people to get up to let us by.  It hit me even stronger as Act 2 began.  What was it that was bothering me?  Whatever it was, was hitting me even worse, as in this Act Gillian was not dressed in particularly flattering outfits, looking rather out of place in her own skin.  Was this a decision in tone? Her acting was certainly good. It was just the way she looked that didn't fit.  Finally it hit me … she had a wig on … that did not suit her at all!  Amazing how such finite details in a play can be so jarring.  Hoping as the run continues, that they will switch up Gillian's wig – she has such beautiful hair of her own after all, and really is it so very important to mimic the look of the women from Mad Men? As an audience member, I think not. I'd rather enjoy the story and the performance without the irritation of a wig (or a costume) that does not flatter. I also discovered in Act 2, that you want to be sure to get centre seats for this Show, as you lose some of the wonderful set in the wings.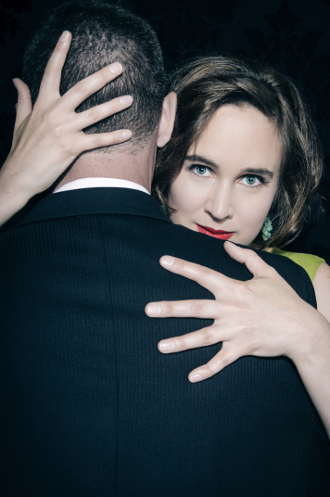 All in all, this was a play that very much appealed to my sense of whimsy and wicked imagination. I have after all been accused of being a witch myself in my alluring ways, leaving the odd fellow feeling as though I'd cast a spell of my own.  Seems I'm not the only member of my family drawn to this particular production either, as as it would turn out, my grandfather played the part of Sidney, years before I was born.
My applause to the cast and crew!  Those that I have not yet mentioned: Production Manager Heather Stewart, Stage Manager Anthony Stonechild, Assistant Stage Manager Lydia Williams, Lighting Designer Les Erskine, and Graphic Designer Barbara La Bounta.
Now to cast a spell of my own!  I've conjured up 5 pairs of tickets to the play – the first 2 of which I will give away tomorrow (Friday August 30th) morning at 10 am to one lucky winner, the next two Saturday August 31st at 10 am, then again Monday September 2nd at 10 am, Tuesday September 3rd at 10 am, and the final pair Wednesday September 4th at 10 am.
To Enter to Win:
Comment below with any sort of magical incantation of your choosing.
For a 2nd, 3rd, and 4th entry: Share this contest on Twitter, Facebook and Google+ (one extra entry for each platform shared on), just be sure to include a link to this post, the hashtag #BellBookCandle & my handle (so I am sure to see it). So, as an example:
For Twitter: " For a witchin' good time, win tickets to #BellBookCandle at #Vancouver's @MetroTheatre from @EmmeRogers ~ http://ht.ly/onWDH "
For Facebook & Google+: " For a witchin' good time, win tickets to #BellBookCandle at #Vancouver's Metro Theatre from Emme Rogers ~ https://emmerogers.com/2013/08/witchin-it-up-with-bell-book-and-candle-at-vancouvers-metro-theatre
I will then throw the names of all commenters and Twitter, Facebook and Google+ sharers into a hat, and randomly draw the name of the winner of the tickets, at the aforementioned times.
For those of you that don't win, you can still cast a spell for a night of whimsy and amusement at Vancouver's Metro Theatre by purchasing your tickets for the Show at the Box Office. The Show runs now until September 21, 2013, with performances Thursday, Friday and Saturday nights at 8 pm, and Sunday matinees at 2:30 pm on September 8th and 15th.
Kisses,
Emme  xoxo