If you've been here for awhile you might remember me writing about the simple truth that #CurvesAreSexy, as well as on my 2010 New Year's Resolution to trim down.  Truth be told, while I am not a dieter, up until that 2010 New Year's Resolution, I was always a little insecure about my body.  I do have a bit of a belly after all and am quite curvaceous.  That 2010 New Year's Resolution shifted this for me.  Thanks to the support of readers, I began to see myself the way they saw me, as a beautiful woman with sexy curves. I can't thank my community of readers enough for this, as this very much put a salacious strut in my step and improved my confidence in myself.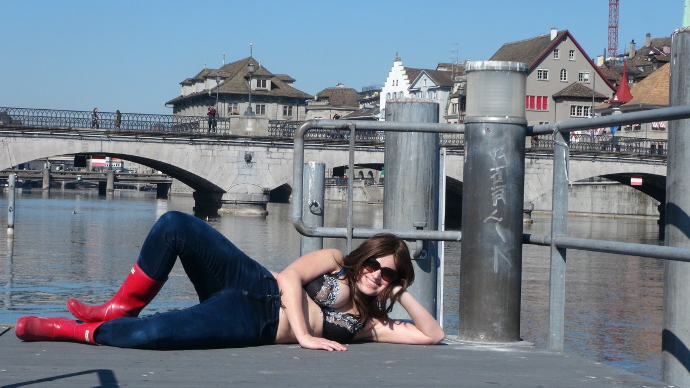 Why am I writing about this now? Because yesterday I saw Jeannie Mack (Nomadic Chick)'s Coming Out of the Closet: I'm Size XX post (inspired by Meagan Collin's I Have Curves, And I Travel – Deal With It!), and it made me smile and reminded me how far I've come since 2010.  But it's a journey … and a long one.  For instance, all my life I didn't think I could wear a bikini, which is why Jeannie's mention of Ashley Graham and SwimsuitsForAll's #CurvesInBikinis pleased me so …
… you see not only did I get the guts up last year to shoot my own Roamancing spoof on the Swimsuit Illustrated edition of Swiss Views , but on the urging of one of the lovely women at Bare Basics in Steveston, I tried on my first bikini ever.  And she was absolutely right, the bikini actually flattered my figure.  Now, while I am generally game to expose myself in my stories, I don't in my personal life, so as I wandered to the pool that first day in the bikini, I was feeling more than a little insecure. That disappeared in a flash, as the women at the pool began to compliment me on my new swim attire.  Gradually I am feeling more and more at home in that bikini, even going so far as to dance in the snow in it!
A year ago I was horrified at the thought of wearing a bikini, let alone dancing in the snow in it!
Thank you Jeannie, Ashley, Meagan, SwimsuitsForAll and Bare Basics! I am liking this new joie de vive version of myself, in which I am loving #CurvesInBikinis as I dance!
Kisses,
Emme  xoxo