Ever since I began Roamancing, it doesn't matter where I go, I find love!  Such was the case on my recent trip to Ontario's Haliburton Highlands.  Despite staying at Haliburton, Ontario's ever so romantic couples inn, Sir Sam's Inn, where pretty much everything tantalizes, which was awfully funny as I was sharing a room with Erica … that is not where I found love … and no, I have not taken on Erica as my lover!!!  Where I found love was with Winterdance Dogsled Tours, on the edge of Algonquin Park!  To meet the fellow in question, simply click play …
So maybe this wasn't my fantasized rugged man of the North, but these two are certainly a husky of a fellow and a lady, and they do give very good cuddles!  Don't worry, I'm not deluding myself, I know this is just a love between friends, as really Ninja and Loretta only have eyes for one another. I am just happy to share a few cuddles with them. Besides which, this proves that I am not the crazy cat lady that Big Daddy T accused me of being at dinner tonight … I'm crazy about dogs too!
While this trip, may not have held the romance of a lover of my own, I did fall in love with the Haliburton winter, the Haliburton scenery, Winterdance and all of their beautiful and most cuddly huskies, and with Sir Sam's Inn.  And I rather hope that it won't be long before I can take a lover of my own to indulge in all that teases at Sir Sam's Inn, enjoying an actual romantic tryst of my own!  Until then, here is a husky of a hug for you!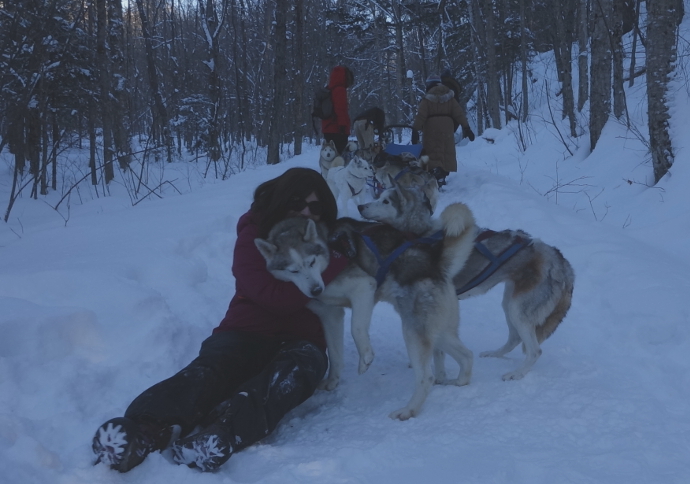 Kisses,
Emme  xoxo
PS. In Full Disclosure: As always, the opinions and thoughts shared here are our own and honest ones. We are bought out by no one. In the spirit of disclosure, it should be noted that on this trip, our expenses were covered for our dogsledding at Winterdance and our stay at Sir Sam's Inn.