WOW!  That is all I could think of when I first tried to write this post on Friday night.  WOW!  I'd just seen possibly the most powerful play of my 30-something years in a small Vancouver theatre, the Firehall Arts Centre, as a part of Vancouver's 2012 Fringe Festival, and I was at a loss for words.  How would anything I write possibly do this play justice?
The Play in question?  She Has a Name by Andrew Kooman presented by Burnt Thicket Theatre and RaiseTheirVoice. A play on the heart-wrenching and all too real topic of human trafficking and sex slavery.  An insanely emotionally charged issue to write about and act, and to possibly do justice to the very real people and very real emotions of the people involved.  Andrew Kooman, Burnt Thicket Theatre and RaiseTheirVoice do just that ~ they portray the amazing array of emotions that the victims and those that try to safe them from the horrors, live through, and they do it with a great deal of sensitivity.  Just thinking about it now makes my eyes well up all over again.  Such a powerful story!  You can tell that a lot of thought, care and emotion has gone into it from the playwright, director, and from the cast and crew's use of space, movement, music, lighting, costumes, set design, and of course acting. WOW!
I can't begin to imagine the energy that has gone into telling this emotionally charged story night after night from May 23rd – October 6th, as they deliver their 2012 Canadian Tour.  I've done some writing, directing and acting, so I know how energy consuming it can be, and that's before we are talking the types of emotions that would go into this content and these roles. WOW!  The team that put this together are absolutely amazing ~ Andrew Kooman (playwright), Evelyn Chew (Number 18 & Voice 1), Carl Kennedy (Jason & Pimp), Alysa van Haastert (Ali & Voice 4), Glenda Warkentin (Marta & Voice 1), Sienna Howell-Holden (Mamma & Voice 2), Stephen Waldschmidt (Director, Scenic Designer & Artist), Karl Sine (Fight Director), Deanne Bertsch (Choreographer), Jaylene Wiebe (Costume Designer & Head of Wardrobe), Luke Ertman (Composer & Sound Design), Anton de Groot (Lighting Designer), Brad G. Graham (Tour Stage Manager), James Popoff (Artistic Director) and Alida Lowe (Producing Director).  THANK YOU!  I hate single out any of the actors, as they all did beautiful jobs portraying some very emotionally difficult roles, but I feel I do need to shine a spotlight on Evelyn Chew and Carl Kennedy, who perhaps carried the two most difficult performances throughout with grace and respect for the characters they played, especially Carl who played both the source of horror and the man struggling to help save the victims of the horror, and did it with ease of believability. Speaking of Carl, I was so impressed by how Andrew wrote his role of Jason, expressing many of the difficult emotions that men go through and struggle with that we often don't acknowledge aloud. WOW!
This is a story that needs to be told for the many women, children (and men) whose voices (and screams) cannot be heard, and it is a story that needs to be listened to.  Hauntingly  beautiful and absolutely heart wrenching, there was not a dry eye in the theatre when it was all done. THANK YOU!  I again stand on my feet to applaud you on the story you told.  THANK YOU!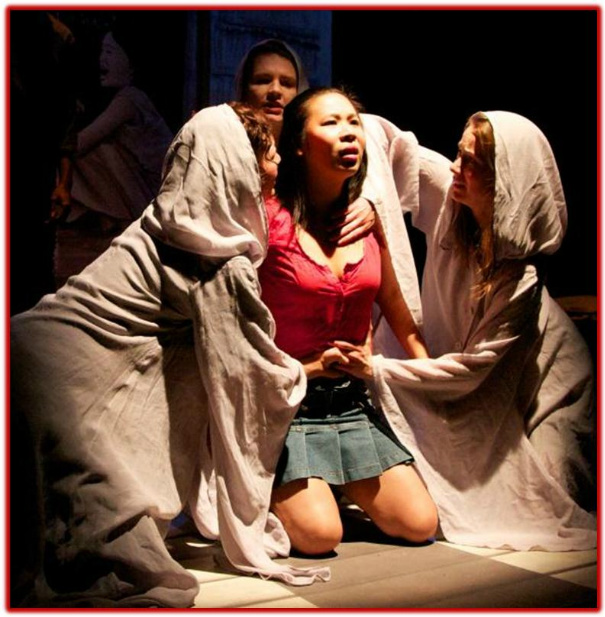 If you see no other play at this year's Fringe Festival between now and September 16th, this is the play to see. No, let me change that, this is the play you must see.  And if you go on Friday September 14th, you can catch a Talk Back after the 5:15 pm performance at 7 pm at Saint James Anglican Church (302 East Cordova St.) with panelists Brian McConaghy, Founding Director of Ratanak International – Naomi Krueger, Deborah's Gate – Mark Wollenberg, Director of Development and Mobilization at IJM Canada (West). Details on the performances at Vancouver's Fringe Festival are as follows:
Where:
Firehall Arts Centre (230 East Cordova St.)
When:
Tuesday September 11th at 9:30 pm
Thursday September 13th at 7:30 pm
Friday September 14th at 5:15 pm followed by a talk back with human rights experts
Saturday September 15th at 9:30 pm
Tickets:
$10 – 12 at
shehasaname.net
or at the Fringe Box Office (in the parking lot on Granville Island between Waterfront Theatre and 1398 Cartwright St.) or at the door 45 minutes before Show time.
You can also catch it in Kelowna (September 18th-21st), Edmonton (September 25th-30th) and Red Deer (October 2nd-6th), if you are not in Vancouver this week.
Now if you are like me, you will likely leave the Show and want to be able to do something to help victims of human trafficking and sex slavery. Aside from telling all your friends to go watch She Has A Name (which you should do) and Play It Forward, Burnt Thicket Theatre  and RaiseTheirVoice have outlined on their site how you can respond and make a difference.  Read on here.
And again THANK YOU to Andrew Kooman, Burnt Thicket Theatre, RaiseTheirVoice, and the Vancouver Fringe Festival for bringing them to town. THANK YOU!