Many of you may have heard rumblings of our new travel series Roamancing.  Well, the rumour mill is true, we with a few friends, are launching into a new romantic transmedia travel series searching this big wide world for love.  For me this started as a bit of a not-so-private joke between me and my buddy, Sir Von Ritter, who wrote a series of posts on how what I needed was a European Knight rather than a North American George Clooney type.  Now while I don't believe that I need to go to Europe to find love, I do believe that I need to start to slow down and smell the roses – ie. actually start taking some time for me and have some fun exploring this big wide world of ours.
To put this to the test, Richard Yearwood and I escaped the hustle and bustle of the city Easter weekend for some fun in the sun in Whistler, thanks to Whistler Tourism.  It was exactly what I needed.  While we didn't exactly slow down, we did have a huge amount of fun and discovered all sorts of new aspects to Whistler from music and art to learning to snowboard in the Spring sun to zipping through the trees with Ziptrek Ecotours.   Best part for a Van City Gal, was this kind of escape can be planned stress free at the last minute or simply on a whim.
For a full account of all of our Whistler Weekend Adventures over the Telus World Ski and Snowboard Festival, you will have to stay tuned to Roamancing as we launch the site and our social media feeds over the next month and put up a variety of posts from A Morning in the Life of an Ewok to the first in a Le Chamois inspired series on the World's Best Tubs to Snowboarding Tips from Whistler Blackcomb Ski & Snowboard Hottie Sean Matthews.
In the meantime, a few tips for those looking for a highly recommended escape from the daily grind:
If you, like me, fantasize about leisurely soaks in the tub with a good book and a glass of wine, the tub at Le Chamois was an absolute dream come true for me, jets included.  And now sadly, while I didn't get the opportunity to try this, I'd harbour a guess that it fit two comfortably.  Richard, similarly enjoyed his roomy shower.
There's ART in Whistler!   And really good art – inspired by the mountain culture and the natural surroundings.  When you're taking a break from the mountain, go search it out.  I really enjoyed what I saw.  Had to give Richard my credit card to curb the spending cravings.
If you give the techno music in the clubs a pass (unless of course that's your thing) there is actually some good music in Whistler.  The Mountain knows its acts and will bring them in, often for free. We caught both Broken Social Scene and Marianas Trench for free on Easter Weekend.  I'll be keeping a close eye on the new Jazz Festival coming to the mountain in September.
Even though the snow is not at it's best in the Spring, the skiing is still immensely enjoyable, especially if you go with the layered look and salaciously strip down throughout the day.  It's a great way of building that tan for the summer, especially if it is not limited to the goggle region.  Blackcomb Mountain is open for the season until May 30th, so there is still time to grab a few runs.  To find the best runs and ski conditions, test out the Whistler Blackcomb Live App.  It's free.  Oh and think Preventable: wear a helmet (and possibly a bum pad, if you're snowboarding) and get lessons if it's your first time.  The Whistler Blackcomb Ski & Snowboard School are excellent and they have a hottie or two working for them (HELLO Mr. Sean Matthews).
If you're like me and like to geek out a little, while taking in the mountain air and getting that Whistler adventure rush on, then I'd recommend checking out the Ziptrek Ecotours. We did the Ziptrek Bear Tour, which made me feel like I'd joined a band of Ewoks.  It was awesome!  Being someone that was initially terrified, I had fun and felt in safe hands with our knowledgeable and humorous guides.  Thanks Peter and Edwin!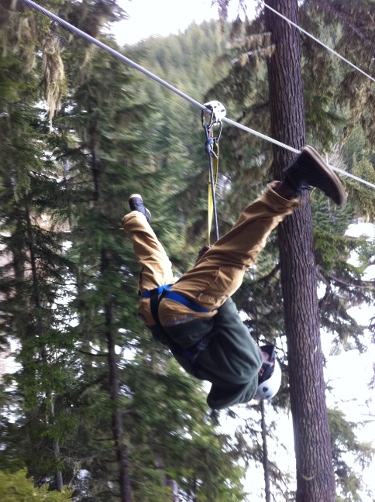 Now I should also note that some of the art and music mentioned about is one of the advantages to hitting Whistler when an event is on.  We were there for the Telus World Ski & Snowboard Festival, which included one of my favourite art exhibits, State of the Art, and a series of free outdoor music concerts, including Broken Social Scene and Marianas Trench.  You have to wait a year until TWSSF is back, but in the meantime, there are some other cool festivals in Whistler coming up, including:
Now to answer the age old question (or at least mine), can you find love in Whistler?  Don't laugh.  Yes, I have been told that I can find plenty of love there for a night (which really isn't what I'm looking for just now), but actual love.  Despite the chuckles and scoffs that I can hear as I write this, I do believe you can.  Whether it is taking someone you are building a relationship with on a weekend escape to take time for each other or you seriously connect with someone on a weekend escape, it happens.  We met a couple from the States that actually met in Whistler (video to come on Roamancing) and despite the transient lifestyle of Whistler, there are folks that stay and are looking for that special someone.  This is especially true for the gals, as lets face it Whistler is a bit of a sausage fest.  Ladies – you just have to be somewhat discerning in your selection (ie. give the married men on a weekend romp a wide pass.  If they are treating Whistler like Las Vegas, they are probably not the fellow to be batting your eye lashes and tossing your hair at).
So did I find love?  Too soon to tell, but I did get a phone number or two.
~ Emme xoxo