On my journey to recovery from an accident, I have been fortunate enough to have been referred to Vancouver's ChangePain Clinic where I have been learning how to better manage the pain I am in, so that it does not become my whole life. Along with the great treatments that I have been receiving, I have also been taking informative classes on pain management. This past week, I took an excellent course from Naturopathic Doctor Caroline Coombs on Nutrition to Change Pain, that included a discussion on natural anti-inflammatories.
As we discussed anti-inflammatory herbs – like garlic, ginger, turmeric and rosemary – Dr. Coombs shared a great Anti-Inflammatory Tea Recipe made from ginger and turmeric to reduce inflammation.
It is really very simple to make. Here is the recipe:
Turmeric Ginger Tea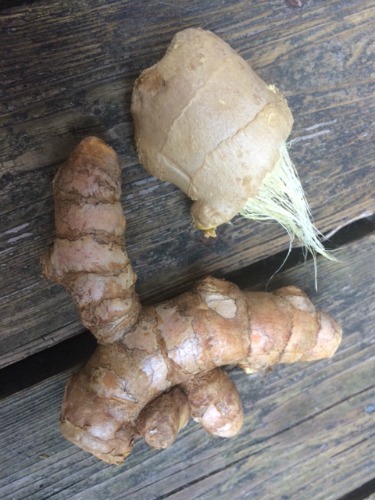 Ingredients
Fresh Ginger Root
Fresh Turmeric Root
Lemon or Lime (Optional)
Honey (Optional)
Creating the Infusion
Grate a thumb-sized piece of ginger and a thumb sized piece of turmeric into a medium-sized pot, being careful not to stain your clothing with the turmeric.
Fill the pot with water, cover and bring to a boil.
Add lemon, lime and /or honey to taste, as you prefer.
Sit back and relax with a hot cup of the tea, and once the rest has cooled, place the remainder in the fridge to enjoy cold throughout your day. Ideally, you want to drink at least three cups a day.
Enjoy!
Emme xoxo